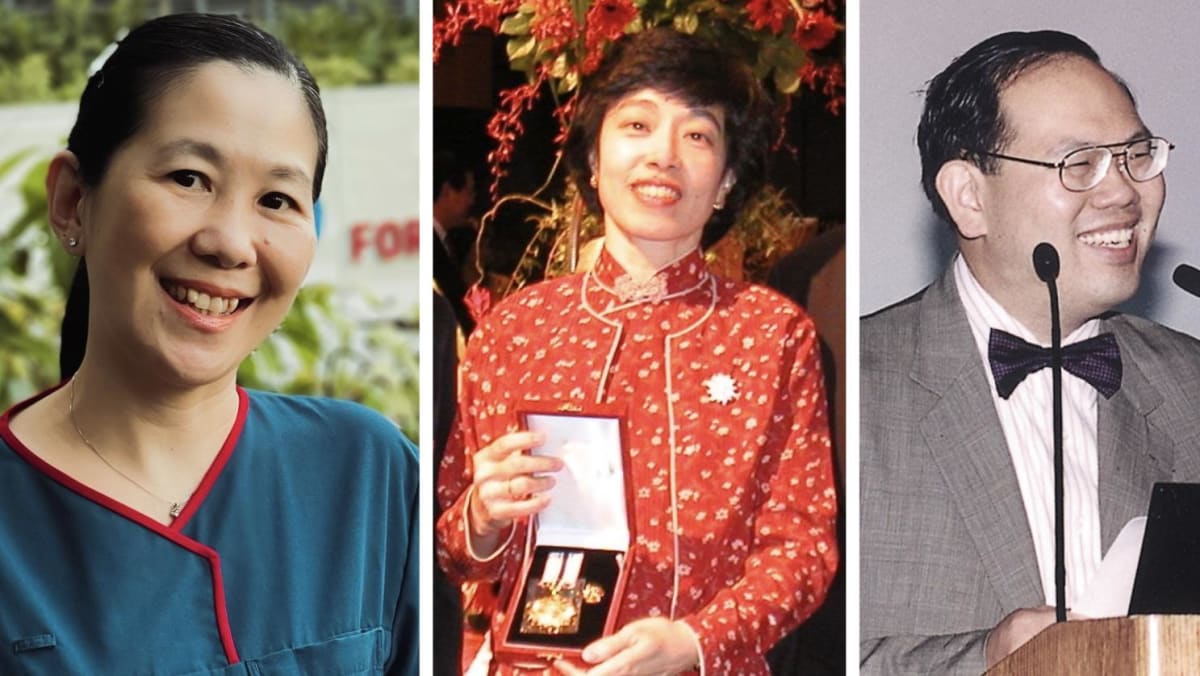 IN THE LINE OF DUTY
On Apr 11, about a week after he left, Dr Koh received a call from her husband that filled her with dread.
"He told me that he had a fever and that he was going to drive himself to the hospital and admit himself," said Dr Koh, who was still in the US at the time.
"I remember very clearly that he said 'I'm so glad you're coming back so that the kids won't be alone', joking that the children won't be orphaned, and I told him not to say that.
"Later, my domestic helper told me that he had waved goodbye to my two young daughters who were aged one and three at the time. That was the last time my two daughters ever saw their father," she said.
Though Dr Koh flew back quickly, she never had a chance to see him alive again.
"We would talk on the phone and he would update me on how he was feeling, also trying to put my mind at ease," she said, adding that his symptoms had not been typical of SARS.
"He had a bad sore throat and bad bone ache but he never had a cough and was not breathless," she recalled.
Just a day before he died, it seemed like he was on the mend and could be discharged.
But the next morning, as she spoke on the phone with her husband, Dr Koh noticed that his voice was very soft and faint.
"I kept asking if he was breathless and that if he was, he had to tell me," she said, as her voice started to crack.
"He said he wasn't breathless but he found it hard to speak because his throat was hurting. I still remember telling him this: 'You must come home. Beatrice is very naughty, please come home, she wants someone to read to her.'"
With tears rolling down her cheeks, she shared what the doctors had told her about her husband's final moments.
Dr Chao's condition had deteriorated rapidly after their call and had to be put on a ventilator as he had difficulty breathing.
But despite the situation, he remained stoic and never showed fear.
"The only thing he took with him was his Bible and the nurses told me later that he was smiling and waving to them as he was pushed into the ICU," she said.
Over the course of that afternoon, she said his doctors tried their best to save him, asking for her permission to try all sorts of treatments but nothing worked.
In the evening of Apr 22, 2003, Dr Chao died from SARS at the age of 37 at SGH, leaving behind his wife and two young daughters.
"I think he knew that it was time for him to go and he was prepared," said Dr Koh.
"Looking back, it was good that he didn't suffer too much and didn't have to be put on a respirator for days or even weeks. To my best knowledge, he also never infected anybody else," she said.
"I took some comfort in this."
Eventually, the scourge of SARS passed and Singapore returned to normality, but 17 years later a new virus emerged.
THE VIRUS THAT UPENDED THE WORLD
On Mar 17, 2020, as governments around the world rushed to design and implement measures to combat the rapidly spreading coronavirus, Dr Chao's and Dr Koh's eldest daughter Beatrice contemplated her options.
COVID-19 had already hit Chicago, where she was a student at Northwestern University, and her school had just announced it would be shutting down the campus soon.
Meanwhile, Singapore had more than 260 cases and already implemented border restrictions for some countries in Europe and Asia, which had very high numbers of cases, as well as social distancing measures.
Worried about her safety as well as her family, who were all based in Singapore, she decided against staying in the US and booked her flight home that very afternoon.
"I was scared, my friends were scared. But I've always remembered how my mother told me that when my father was called back to Singapore to serve during SARS, he went without hesitation and with unwavering courage. That was very impactful for me," said Mrs Beatrice Chao Sanders, who is now 23 years old, recently married, and working as a civil servant.
"I decided to come home so early and so quickly … partly because of what happened to my father, I thought it was really important that we stayed together during this time."
But despite all the uncertainty and having once lost someone to a virus, the family was determined not to live in fear.
"I did wonder at the start if my mum would be extra sensitive and take additional precautions but she never did that," said Mrs Sanders.
"She always told us to just follow what the prevailing government regulations were whether it was wearing a mask or keeping to the group size limits for social gathering.
"This is one thing that has really always impressed me about my mum. That she doesn't allow the fear of what happened to my father control her life," she said.
She ended up staying in Singapore for nearly one-and-a-half years, doing her university studies remotely.
During this period, the country imposed a lockdown after being faced with a surge in unlinked COVID-19 cases.
The two-month-long "circuit breaker" saw most workplaces being closed and schools shifting to home-based learning.