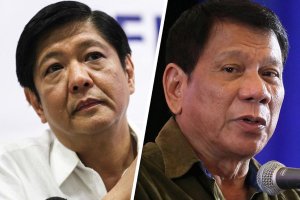 2023-08-11
MANILA – "I'm not aware of any such arrangement or agreement that the Philippines will remove from its own territory its ship," Philippine President Ferdinand Marcos Jr said when asked about China's recent request for the removal of the BRP Sierra Madre grounded vessel from the contested Second Thomas Shoal.
"And let me go further: If there does exist such an agreement, I rescind that agreement now," Marcos added, the latest fusillade in the leader's tough stand on China amid escalating tensions in the South China Sea.
The Filipino president was responding to claims by the Chinese Foreign Ministry on August 7 following yet another major incident in the maritime area that Manila had "promised several times" to tow the Sierra Madre away "but has yet to act."
Over the weekend, Philippine authorities released footage showing China Coast Guard ships blocking and harassing Philippine resupply vessels approaching the Second Thomas Shoal, where a detachment of Philippine marines are stationed over the rusty, half-sunken ship.
China has denied blocking resupply of food and water supplies, but it has defended its latest action by accusing Manila of efforts to transfer construction materials to the area.
While China has engaged in massive reclamation activities in the disputed sea, it has at the same time opposed any similar efforts by rival claimant states. The Asian powerhouse has also opposed the Philippines' recent efforts to expand military cooperation with the United States under the Enhanced Defense Cooperation Agreement (EDCA).
The recently enhanced agreement gives US troops rotational access to Philippine bases, including strategic facilities situated close to Taiwan. Speculation has grown in recent months that the US may eventually seek to preposition weapons pointed toward China on Philippine soil.
Confronting growing harassment by Chinese vessels in the South China Sea, top senators and political figures in the Philippines are egging on Marcos to adopt even tougher measures vis-a-vis Beijing. As a result, the notoriously conflict-averse Filipino leader is being forced to harden his line towards China.
Shifting mood
By all indications, the Marcos administration's foreign policy pivot toward the United States has taken China by surprise. Just weeks after a high-profile state visit to Beijing, Marcos greenlighted an expanded EDCA with the US. Months later, he traveled to the White House and the Pentagon to upgrade bilateral defense ties further.
To be sure, the Filipino president did repeatedly seek to reassure China by vowing that EDCA sites would not be weaponized by the Pentagon. His top defense officials also downplayed the proximity of some of the EDCA sites to Taiwan's southern shores, emphasizing that Philippine defensive capability development was the main focus of growing cooperation with the United States.
Public statements, however, indicate that China is unconvinced. In a direct challenge to Marcos's mandate, former president Rodrigo Duterte accepted an invitation to visit top Chinese leaders including President Xi Jinping in Beijing, reportedly to mediate rising tensions.
In recent months, the popular former president has wasted no opportunities to criticize his successor's pro-US foreign policy, most notably the enhanced EDCA, as unnecessarily provocative toward China and potentially devastating for Philippine sovereignty.
Aside from exerting pressure on Marcos via pro-Beijing figures in the Philippines, China has also upped the ante in the South China Sea. Ever since the Philippines cleared an expanded EDCA with the US, Chinese vessels have engaged in various forms of intimidation against Philippine counterparts.
Beijing's tough tactics, including the Chinese Coast Guard's recent use of water cannons against Philippine resupply ships destined for the Second Thomas Shoal, have galvanized Manila's political elite.
"I'm begging you to stop bullying Filipinos," exclaimed Philippine Senator Christopher "Bong" Go during a particularly spirited speech earlier this year.
"Just because we are a small country we will be oppressed? Don't do that!" said Go, vice-chairman of the Senate Committee on National Defense. "Let's maintain respect. We will fight for what is ours. What is ours is ours. That's ours. So stop using violence or bullying."
What makes Go's comments particularly noteworthy is that the senator is the de facto right-hand man of former president Duterte.
Go, who is of Chinese-Filipino descent, repeatedly accompanied Duterte during trips to Beijing in order to elevate bilateral strategic ties. But now, even this top advocate of Philippine-China relations has begun adopting a more critical stance, at least in public.
Other key Duterte allies have adopted similar lines. Senator Francis Tolentino, former political affairs secretary under Duterte, has been a leading advocate of stronger defense ties with Western allies.
Earlier this year, he even called for a "new quadrilateral" security alliance with Australia, Japan and the US to counter China's assertiveness in the South China Sea.
Following the latest incident in the disputed waters, other pro-administration stalwarts have also taken harder lines.
"China's bullying only promotes discord and instability, which does not do well for regional peace and harmony," said Senator Ramon Revilla Jr, another key Duterte ally. "We have long advocated for a coexistence built on respect and amity. And with this incident, we must put our foot down and draw the line where the safety and interest of our countrymen are endangered."
Radical measures
Senators JV Ejercito and Joel Villanueva, who belong to the majority bloc in the 24-member Senate, have called on the Marcos administration to ramp up measures against China while enhancing the country's defensive capabilities.
In fact, there seems to be growing support for opposition Senator Risa Hontiveros's earlier call to take China to the United Nations over there South China Sea disputes, as well as pursue joint patrols with Southeast Asian claimant states in the contested waters.
Senate President Juan Miguel Zubiri cited China's recent "atrocities" as a reason to consider more extreme measures beyond the hundreds of notes verbales filed by the Department of Foreign Affairs (DFA) to Beijing against China's various actions in the disputed waters.
"Those acts done were completely illegal and therefore a complaint should be filed under the United Nations Convention on the Law of the Sea with the UN," said Zubiri.
"Not just notes verbale. With due respect to the DFA, with the number of notes verbale – with the number of diplomatic protests – we can gift wrap the Chinese embassy in Metro Manila yet we are still ignored," the Senate president added, underscoring the hardening stance among the Philippine political elite on the issue.
Top political figures have also called on the government to start refurbishing the Philippine position on the ground, most especially the grounded vessel in the Second Thomas Shoal.
Under the Duterte administration, the Philippines upgraded its facilities across the Spratly group of islands, most notably on Thitu Island, which hosts a relatively large Filipino community composed of both civilians and military personnel.
But refurbishing the Sierra Madre vessel in the disputed area risks provoking an even more aggressive response from Beijing. So far, Marcos seems determined to avoid direct clashes with China, but he will also have to contend with growing public pressure.
An authoritative survey released earlier this year showed that more than eight out of 10 Filipinos want the government to seek US assistance to better defend the Philippines' position in the South China Sea. Meanwhile, a more recent survey by the New York-based Eurasia Group consultancy showed that 69.8% of respondents held negative views of China.
In the Philippines, public opinion is often king and could eventually force the president's hands. If the status quo persists, Marcos will have no choice but to further enhance military cooperation with the US to better defend his country's position in the South China Sea.
He may also seek the Pentagon's assistance – even if indirectly through security guarantees in the event of potential clashes with China – to refurbish Philippine facilities in the Spratlys.
By resorting to intimidation tactics rather than providing meaningful concessions and incentives, Beijing may have inadvertently alienated a potential ally in one of the most strategically situated nations in the Indo-Pacific, with major implications for the trajectory of US-China rivalry in the region.
Follow Richard Javad Heydarian on Twitter at @Richeydarian