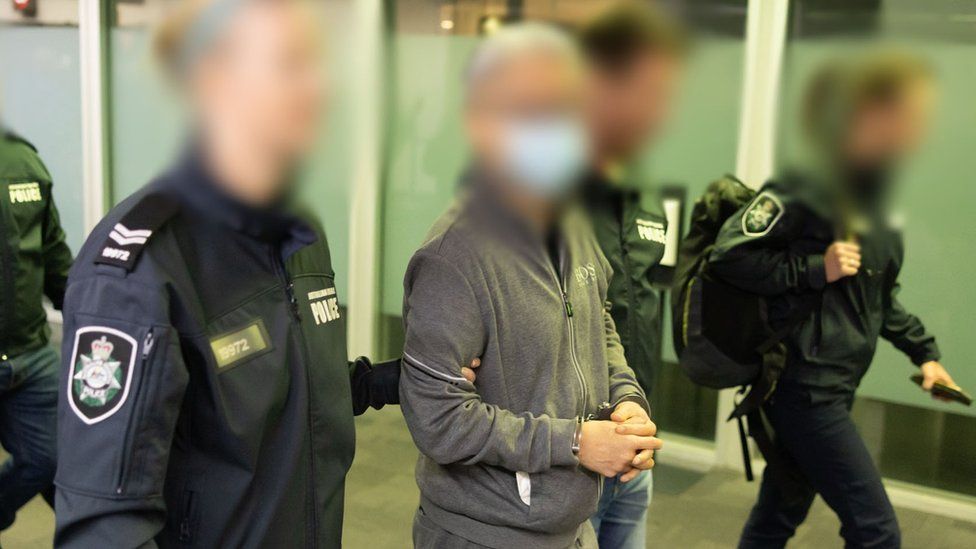 Asia's most-wanted alleged drug kingpin has been extradited to Australia where he faces charges and life imprisonment.
Tse Chi Lop is accused of heading up a multibillion-dollar drug operation spanning several countries in the Asia Pacific, from Japan to New Zealand.
A notorious figure whose status in Asia has long drawn comparisons to Mexican drug lord El Chapo, he was arrested at a Dutch airport last year by Interpol.
Following a near two-year battle, he was finally extradited on Thursday.
Australian police released pictures of armed officers escorting him off the plane at Melbourne airport in handcuffs. He is due to face a local court on Thursday.
The 59-year-old is alleged to be the head of one of the world's biggest multibillion-dollar drug syndicates.
The Company, also known as the Sam Gor Syndicate, dominates the illegal drugs market across Asia. Australian police estimate it's responsible for up to 70% of the drugs coming into Australia alone.
They said the group smuggled huge quantities of drugs – particularly methamphetamine, heroin and ketamine – into the country in packs of tea.
The scale of his alleged enterprises is why Mr Tse has been compared to the Mexican drug lord Joaquin "El Chapo" Guzman.
Australian police had been hunting him for more than a decade. They say most of his drugs flowed into Sydney and Melbourne.
The effort to arrest Mr Tse, Operation Kungur, involved about 20 agencies from continents across the globe with Australian police taking the lead, it's been previously reported.
Mr Tse has denied the drug charges. He has claimed that his arrest was set up by Australian authorities, and in his attempted appeal against his extradition he argued that Australian police had illegally arranged for his expulsion from Taiwan to Canada to include a stop in the Netherlands so that he could be arrested there.
Mr Tse was rumoured to have lived in Macau, Hong Kong and Taiwan in recent years.
He previously spent nine years in prison after being arrested on drug trafficking charges in the US in the 1990s.