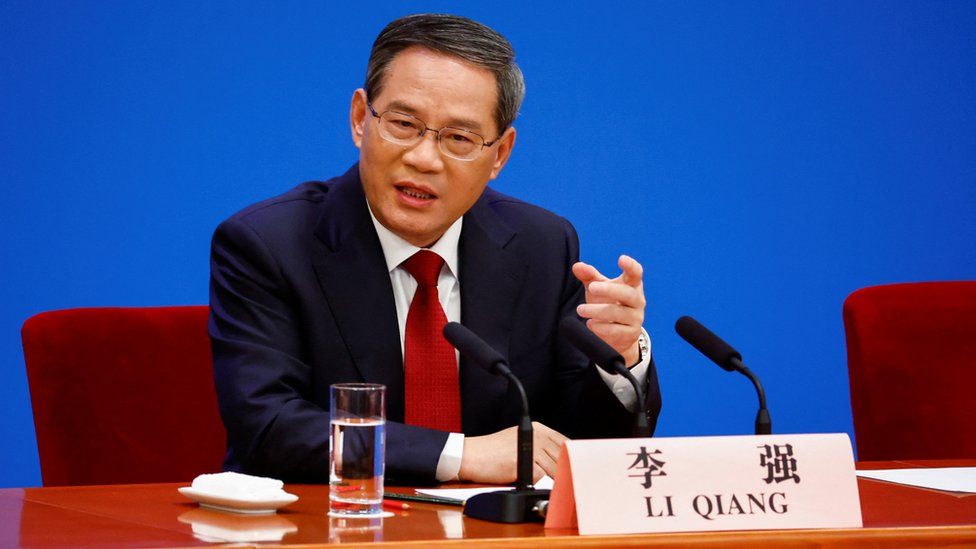 China's new premier Li Qiang has sought to restore confidence in the country's economy in his first public address after taking up the role.
He said that a growth target set last week – 5% – would "not be easy" to meet, but added that the "economy is stabilising and picking up again".
The world's second-largest economy is still reeling from the effects of Beijing's zero-Covid policy.
Challenges also loom because of a declining population and job losses.
Investors' confidence too has taken a hit in recent years as China's leader Xi Jinping consolidated his power, cracking down on private businesses, from tech companies to the tutoring industry.
In an attempt to allay those concerns, Mr Li said, "During a period last year, there was some incorrect opinion on the development of the private economy and worried some entrepreneurs… The environment for the private economy would get better and better and there would be more space for it."
Mr Li also struck a more conciliatory tone towards the US: "China and the United States should cooperate, and must cooperate. When China and the US work together, there is much we can achieve. Encirclement and suppression are not advantageous for anyone."
As party chief of Shanghai, he oversaw one of the harshest zero-Covid lockdowns that battered China's economic hub, leaving many without food. Party officials often went above and beyond to implement what was seen as Mr Xi's signature policy, which was reversed in December following widespread protests.
Although Mr Li's appointment was near certain after the Party Congress in October, he was formally appointed to the role only during the Two Sessions, the annual meetings of China's legislature and top political advisory body that ended on Monday.
As premier, he is now tasked with managing China's economy and his elevation has surprised many – unlike almost all his predecessors, he has had no experience working in the central government. But he is known as a loyalist of Mr Xi's, who worked closely with him in Zhejiang – one of China's richest provinces – between 2002 and 2007.
"Running the State Council machinery will require some adjustments, but he likely had some 'practice' during Zero-Covid since Shanghai, as the largest city in China, had to coordinate closely with State Council agencies and he even took over the Covid leading group for months now," says Victor Shih, a professor at University of California San Diego.
"On issues that Xi cares about, there will be very little room for flexibility. However he [Li] may have greater ability to persuade Xi."
Mr Xi, the most powerful leader since Chairman Mao Zedong, also secured a historic third presidential term during the Two Sessions last week. This too was widely expected after the two-term limit on presidential term was removed five years ago.
"This is my third term holding such a high office as the country's president. The trust of the people is the greatest motivation for me to move forward and a heavy responsibility on my shoulders," Mr Xi said on Monday.
"Security is the bedrock of development, while stability is a prerequisite for prosperity," he said.