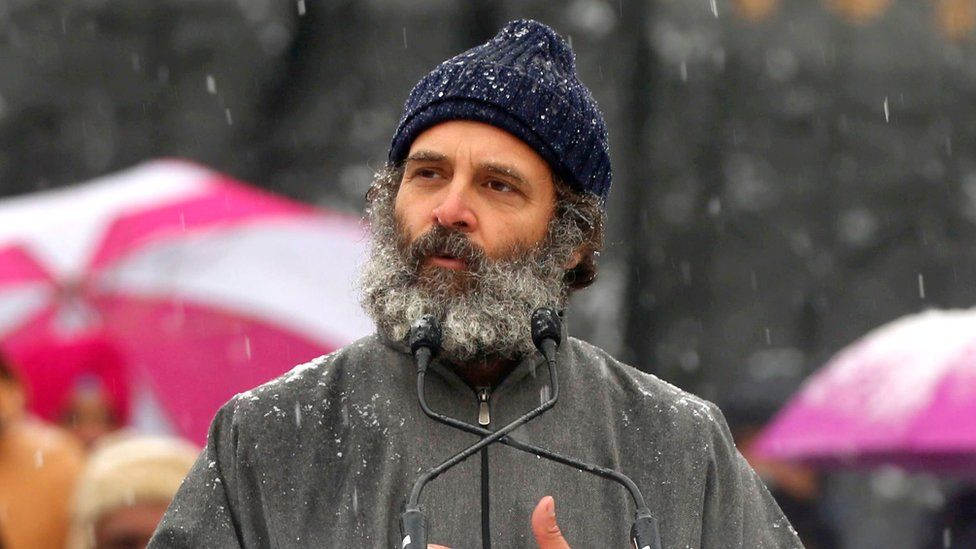 Police in India are demanding information from opposition politician Rahul Gandhi over claims he made about sexual assault victims in Kashmir.
Officers delivered a legal notice to his home and stayed for two hours.
They said they wanted information about victims he had spoken to in the Indian-occupied area of the disputed province, so they could provide justice.
Mr Gandhi described the action as unprecedented, but said he would give a detailed response within 10 days.
The visit by police follows a separate political controversy over warnings Mr Gandhi issued about the erosion of Indian democracy during a recent visit to the UK.
The MP from India's main opposition Congress Party said he hoped the legal notice and visit by the police had nothing to do with his stance on various issues, including recent criticism of connections between Prime Minister Narendra Modi and a business tycoon accused of financial fraud.
Mr Modi's BJP party has attacked Mr Gandhi for claiming their government is threatening democracy.
After the police visit, the Congress Party said the BJP was "deploying every dirty trick in the book", including sending officers to "harass our leaders and spokespeople".
"All to silence us from exposing the Adani scam. But we will not back down until we get the answer!" the party said.
Officers remained for two hours at Mr Gandhi's house in the capital New Delhi, after delivering the notice demanding information on claims he had made about women being sexually assaulted in Indian-administered Kashmir in January.
They said the information was required to prosecute the cases of the victims he mentioned.
Kashmir is a disputed region in the Himalayas, claimed by both India and Pakistan – who have clashed over control of the territory for more than 70 years.