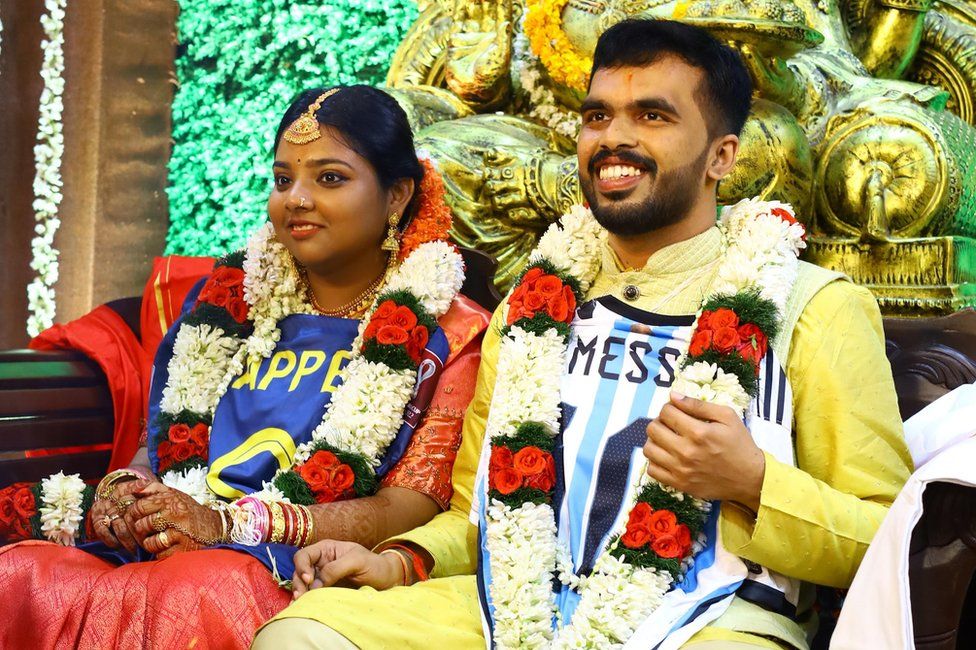 Football fans in the southern Indian state of Kerala have always distinguished themselves for their love for football in a cricket-crazy country.
Sunday was no different as the state geared up to watch the final between Argentina and France.
Makeshift screens were set up across the state as Argentinian and French flags fluttered in the streets as fans gathered in their thousands to watch the match.
But a couple stood out in their devotion for the beautiful game. Sachin R and R Athira's wedding date coincided with the final on Sunday. While they agreed on most things about their wedding, they didn't want to compromise on which team they supported in the final.
Sachin is an ardent fan of Argentina star Lionel Messi, while Athira is a passionate supporter of the French football team.
Hours before the two teams met in Qatar's Lusail Stadium in one of the most spectacular matches in World Cup history, they married each other in a ceremony held in Kochi city.
Over their jewellery and traditional wedding attire, the couple wore number 10 jerseys – Athira donned one for French forward Kylian Mbappe while Sachin wore Argentina's colours for Messi.
Newspaper Malayala Manorama reports that following their wedding ceremony, the couple raced through their reception and the wedding feast to make it back to Sachin's house in Thiruvananthapuram 206km (128 miles) away in time to watch what turned out to be a sensational final.
Argentina won the final in a penalty shootout 4-2, giving 35-year-old maestro Messi a chance to finally lift the World Cup trophy.
Kerala, where Messi has a huge fan following, has been celebrating the victory since Sunday night as fans waved Argentina flags and set off fireworks across the state.
The state's devotion for the game even caught the eye of FIFA last month when it tweeted about fans setting up giant carboard statues of football stars in the state.


Read more India stories from the BBC: