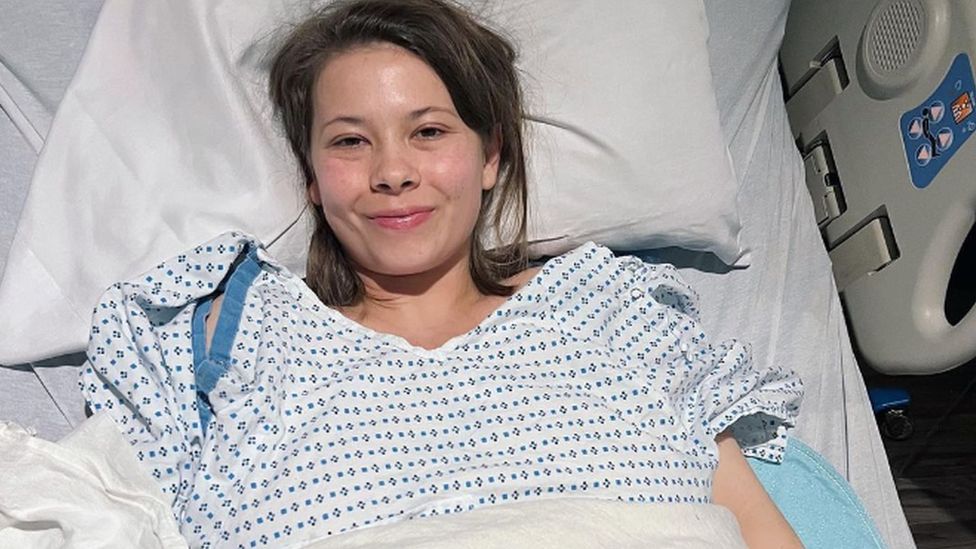 Australian conservationist and TV personality Bindi Irwin has revealed she has suffered "insurmountable pain" from endometriosis for a decade.
In an Instagram post, Ms Irwin, 24, said she had undergone surgery to alleviate the condition.
Endometriosis is caused when tissue similar to the womb's lining grows in the ovaries and fallopian tubes.
Ms Irwin said she felt she needed to share her story now "for other women who need help".
Posting a photo of herself lying in a hospital bed, Ms Irwin said trying to remain positive and hide the pain had "been a very long road."
She had endured "insurmountable fatigue, pain and nausea" over the years.
"A doctor told me it was simply something you deal with as a woman and I gave up entirely, trying to function through the pain," she wrote.
She said a friend then helped her decide to undergo surgery- a "scary" decision.
"I knew I couldn't live like I was. Every part of my life was getting torn apart because of the pain," she said.
In the operation, doctors found a cyst filled with menstrual blood and 37 lesions – "some very deep and difficult to remove", she wrote.
"Validation for years of pain is indescribable," she said.
She told her 5.1 million followers she was now recovering from the treatment, and thanked friends, family and medical staff for their support.
She added that stigma around endometriosis meant many women were suffering in silence.
"Let this be your validation that your pain is real & you deserve help," she wrote.
Endometriosis affects roughly one-in-ten women and girls of reproductive age globally, the World Health Organization (WHO) says.
It can cause severe pain during periods, sexual intercourse and bowel movements, as well as pelvic pain, abdominal bloating, nausea and fatigue.
It can also affect fertility, and the condition's impact on quality of life can also lead to anxiety and depression.
There is currently no known cure, but treatment can help reduce symptoms.
Bindi Irwin rose to fame following in the footsteps of her father, the Crocodile Hunter' Steve Irwin, an Australian conservationist and TV documentary host. She made her first TV appearance with him as an infant.
She married professional wakeboarder Chandler Powell on 25 March 2020 and gave birth to a daughter, Grace Warrior, exactly one year later in 2021.
Steve Irwin died aged 44 in 2006 after being stung by a stingray while filming on the Great Barrier Reef off the coast of Queensland.