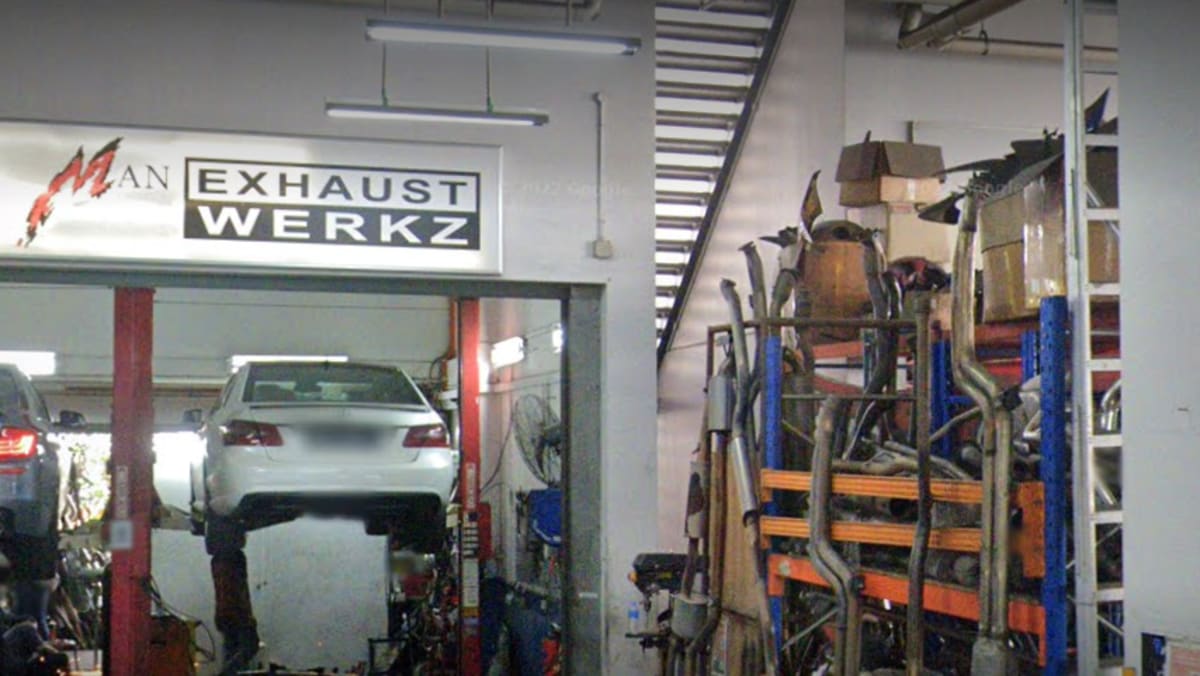 SINGAPORE: The director of a car workshop was fined S$6,000 by a court on Thursday (Mar 9) for allowing his employees, including his family members, to illegally alter vehicle exhaust systems for their customers.
The sole director of Man Exhaust Werkz, 30-year-old Muhammad Shahrudin Mat Nooh, pleaded guilty to three charges of permitting the illegal modifications.
A customer named Sulaiman Mohamed drove his vehicle to the workshop at First East Centre at 10 Kaki Bukit Road in early 2022.
He wanted to have his exhaust modified to improve the fuel consumption capability of his vehicle.
When Sulaiman realised that he had to send his vehicle for inspection in February 2022, he brought the vehicle back to the workshop to have the modified exhaust switched out for a compliant one before going for the inspection.
After passing the inspection, Sulaiman returned to the workshop where the modified exhaust was restored.
For the replacement works, he paid S$280 to Shahrudin's brother and employee, Muhammad Shahrizal Mat Nooh.
A Land Transport Authority (LTA) enforcement officer found Sulaiman driving the vehicle with the modified exhaust in Toa Payoh on Mar 4, 2022.
On Feb 16, 2022, another driver, Shawn Seow Zhi Wei, drove his father's car to the workshop to improve the sound emitting from the exhaust.
He returned to the workshop three days later as the sound from the first modification was too loud for him.
He paid a total of S$400 for the two visits.
An LTA officer discovered the modified exhaust on Mar 17 in Pasir Ris.
In February 2022, driver Ang Wee Beng drove his vehicle to the workshop to have his modified exhaust replaced with a compliant one to pass an inspection.
He knew Shahrudin's father from when the latter was working as a mechanic and reached out to him for the replacement works.
Shahrudin's father was also working at the workshop. Ang returned to the workshop after passing the inspection and had his modified exhaust fitted back.
He paid S$100 for the replacement works.
Before these three occasions, Shahrudin already knew that his employees, including his family members, were carrying out modification works that were not allowed, said the prosecution.
Nonetheless, he condoned their behaviour and did not take active steps to stop them. Instead, he endorsed a work environment with lax practices in curbing such modifications, said the prosecutor.
First-time offenders who permit the illegal alteration of a motor vehicle's exhaust system face a jail term of up to three months, a fine of up to S$5,000, or both.
Repeat offenders face double the jail term and fine.
CNA has reached out to LTA on whether any action has been taken against the others involved in the illegal vehicle modifications.