Children make up a third of the world's population. One might wonder what would happen if they had self-representation in global politics.
"A society that welcomes the voices of children will certainly be a bit noisier. As if adults weren't noisy enough," joked child rights advocate Amihan V. Abueva. "But maybe with some louder noise from the younger ones, we could find more sense and better solutions."
From the Philippines, Abueva has been a pioneer in her field for more than three decades. This week marked International Children's Rights Day on 1 June, which the Southeast Asia Globe commemorated by walking through her pivotal work across the region and world in an extensive interview.
A key member and former president of the Bangkok-based child protection network ECPAT International, Abueva played a major advocacy role for stopping child prostitution in the global sex tourism of Southeast Asia.
Beyond that, Abueva has long been a vocal proponent of the right of children to participate in society, especially in policy-making about child welfare. She previously served as the Philippines' government representative to the ASEAN Commission for the Promotion and Protection of the Rights of Women and Children (ACWC) and has worked to encourage input from youths and children.
Abueva was born in the Philippines and raised during the authoritarian regime of President Ferdinand Marcos Sr. In those years, she overcame several obstacles to become a rights defender, but the real turning point in her work as a children's advocate wasn't until after the end of the Marcos dictatorship in 1986.
Soon after the restoration of democracy, she gave birth to a child.
"Then it was when I became a breastfeeding advocate and got more serious about children's rights," Abueva said. "I have never left."
That was 1988. The next year, the UN adopted the first children's rights international treaty, the Convention on the Rights of the Child (UNCRC). Abueva, who started her activism in the Marcos years, and her team successfully lobbied the Philippine Senate until it signed and ratified the treaty in 1990.
The UNCRC is now the most widely ratified human rights treaty in history, adopted by 196 nations, including all Southeast Asia countries.
Although that was a big milestone for the region, Abueva felt it wasn't enough.
Through the years, while overseeing research on prostitution and tourism, she felt "it was really important to talk to the children themselves about it".
In 1996, she embarked on a campaign to involve children in the first World Congress Against Commercial Sexual Exploitation of Children in Stockholm. The event included representation from 122 governments and civil society organisations from around the world.
"I had a real uphill battle," she said. "I insisted that children should be participating at the same level as adults, and I won."
The planning committee accepted her plea and 16 children from the Philippines, Sweden, Brazil and Ghana participated in the congress.
That was just the beginning. From 2000 to 2008, hundreds of children from more than 20 countries were involved in international meetings. As children's participation grew quickly, ECPAT worked along with other international organisations to facilitate the process and train adult participants to safely and effectively interact with the youths.
"Many people work for children, but they don't know how to work with children," she said.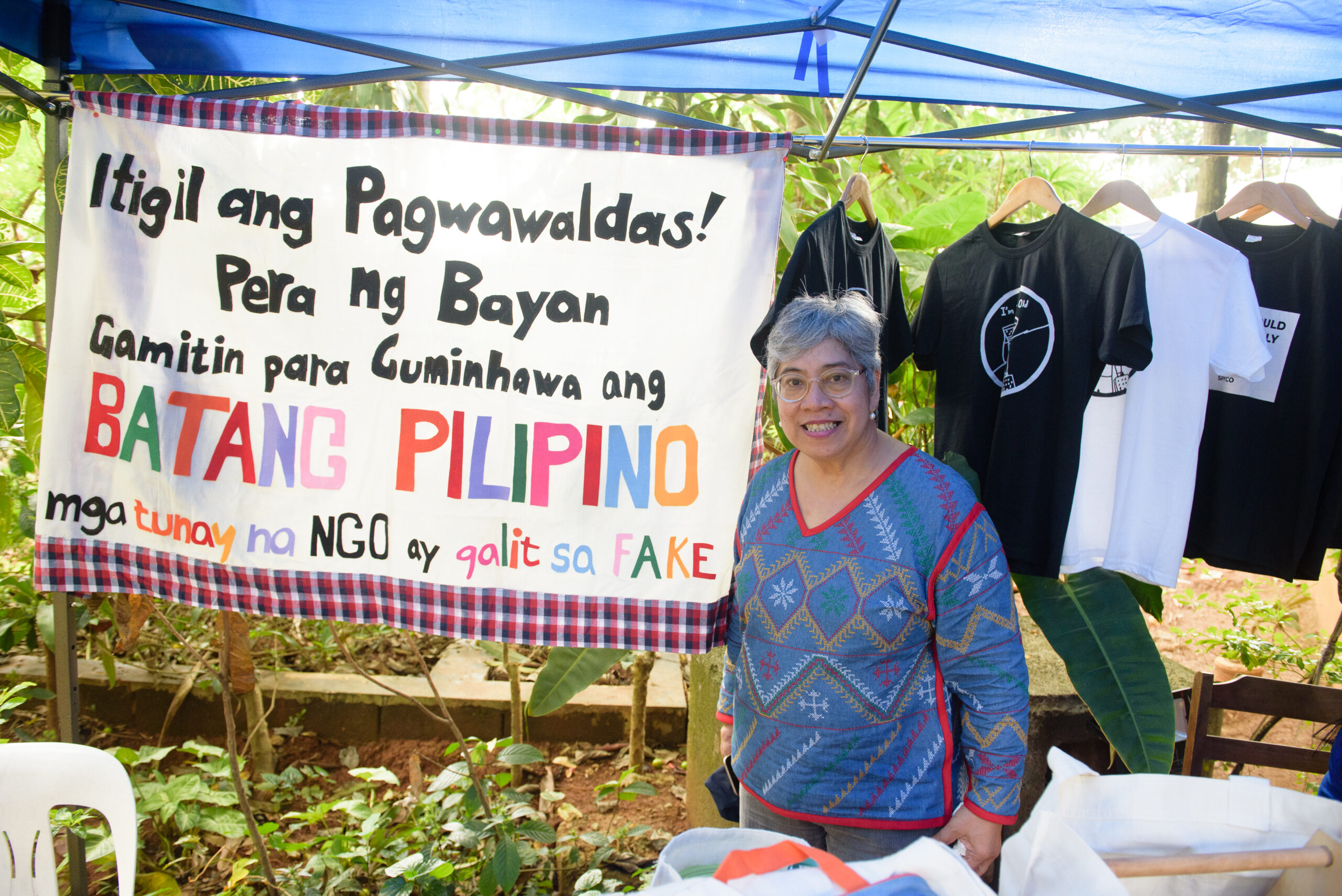 Abueva wants to see even more child participation across all levels of governance, from domestic to international.
"When you help children to grow and develop critical thinking, they can become leaders for themselves," she said. "It is our responsibility to accompany them. Especially in our society, which is not kind towards those who think critically."
What does child participation mean in the context of Southeast Asia?
A concept we are seeing emerging now is children as human rights defenders. But, of course, it's difficult in a region where even adult human rights defenders are at risk.
By using the term "human rights defenders", children could find protection in already-existing international legislative standards. But the problem is how the state allows those rights. We have to help children to value peace and solidarity and so to help each other rather than become military-led.
Recognition of the children's right to participate in Southeast Asia has been progressing at different levels. Thailand, Indonesia, Cambodia, Philippines, are more involved in child participation across the region, while others, such as Laos and Vietnam, are still trying to catch up. In Myanmar, we also have a big problem now. The military junta really endangers lots of children. We are still working with some groups there, but they have to be really careful. We are still trying to find safe ways for them to participate, for instance, through consultations with the UN.
Civil society organisations, government agencies and inter-governmental bodies have strengthened collaborative work to create safe spaces for children to express their views on matters affecting their lives. But aside from the various efforts of creating safe spaces for children, child participation is not just children receiving kits or food during an activity, it is not just children watching magic shows, or having activities to commemorate children's month.
Meaningful child participation brings in children even at the planning stage, where children can raise what they think is the best way for them to celebrate the children's month, what programs, projects or activities are appropriate or are needed by them and their peers, and how the activities should be implemented that will ensure child-friendly approaches and tools. Another important aspect of meaningful child participation is getting the children's feedback on the activities and how they can be further improved in the future.
Allowing children to speak and make decisions, even as simple as letting them decide the colour of shirt to wear, helps them develop important life skills like problem-solving, critical thinking, and communicating.
What programs and activities are available for children to participate in key decisions at a community or national level?
At the national level, civil society groups are advocating for more meaningful child participation in existing or current mechanisms.
For example, in the Philippines, the local government units are mandated to create a Local Council for the Protection of Children at the village, city or municipality and province levels. Children representatives are among the members of the council. Consultations with children are being conducted at the village level. The team is also in charge of promoting and ensuring a safe environment for children and overseeing the government's action on the topic.
Across the region, efforts to organise children and youth groups are also multiplying because we have to remember that children are not just passive recipients of services, victims, or survivors, but they are also active agents of change.
In issues like climate change, children are already taking action in simple ways that are also relevant in their own community. In the UNCRC monitoring and reporting, children are actively participating in preparing the reports submitted to the Committee on the Rights of the Child.
At the regional level, there is the ASEAN Children's Forum (ACF), which is conducted every two years. During this regional meeting, children talk about issues that affect their lives and their peers. We also conduct a regional childrens' meeting annually. We gather children from the communities where our member organisations work. In addition, we conduct consultations with children for our strategic plan.
In 2019, we organised the Asian Children's Summit for the first time. It was a way to try to bridge the whole of Asia. So we had children from East Asia, Southeast Asia and South Asia. The kids discussed four main themes, namely the right to help the environment, digital safety, children and the in the context of migration and violence against children and we asked them to develop what they wanted to say about this.
That event especially demonstrated that children have so many ideas and that we need everybody to be working together.
We value children's voices in our work and we learn a lot from them and because of this, we are able to do our work better.
What are some of the main challenges in this field?
First, the participation rights of children need to be fully understood by all stakeholders. It is not just simply listening to children when they talk. Article 12 of the UNCRC talks about "giving due weight in accordance with the age and maturity of children". It is active listening for adults and taking action based on the views of children. At the same time, adults have the responsibility to explain to children why some of their views could not be considered.
Meaningful child participation can be consultative, collaborative or child-led. These three approaches are equally important.
Another problematic thing in Asia is that there is the process behind the [ASEAN Children's Forum], which is organised by the ministers for social welfare and development and regional working groups. The ones who really get the work done here are senior officials in the end, which is not really the point of a children's forum, is it?
We [children's rights practitioners] don't know who actually listens to what the children said and what they do with the children's opinions afterwards. There's been an attempt to revise the terms of reference, but I'm not sure whether that's already been changed or not.
Another major issue now is that children are the first ones to lose their voice when civic space shrinks and states impose stronger restrictions. That is what's happening in Myanmar. But in the Philippines, things are also not going too well for children.
During the Covid-19 pandemic, two teenage girls broke the curfew rules and two policemen caught them and took them to the beach. They sexually molested one and raped the other. Following the event, one of the girls went to report the case to the police in a neighbouring town but in addition to being denied police protection, on the way home she was ambushed and shot dead.
Our work is to explain to the kids that when you are abused go to the police and report the violence. But cases like this really break everybody's trust. If even the authorities don't respect children, we are in big trouble.
Our role as child rights defenders is to ensure that the children's voices are heard as loudly as possible.
What are your hopes for the future of children's rights in Southeast Asia?
One day, a girl from Pakistan and her Indian friend came to me and said: "Grandma Ami, when you talk about our right to a healthy environment, don't think only in terms of physical health, you have to also talk about mental health."
And I was really taken aback because it was 2019. At that time, there wasn't that much being said about the mental health of children. This was pre-pandemic. I really thought they had a point. Mental health was and is a big problem and I realised that thanks to two children speaking up to me.
This is exactly what I hope for the future; that adults value children's opinions. When we embrace their participation, we need to value them for what they are now and for what they will be in the future.
Children's rights are everybody's business.