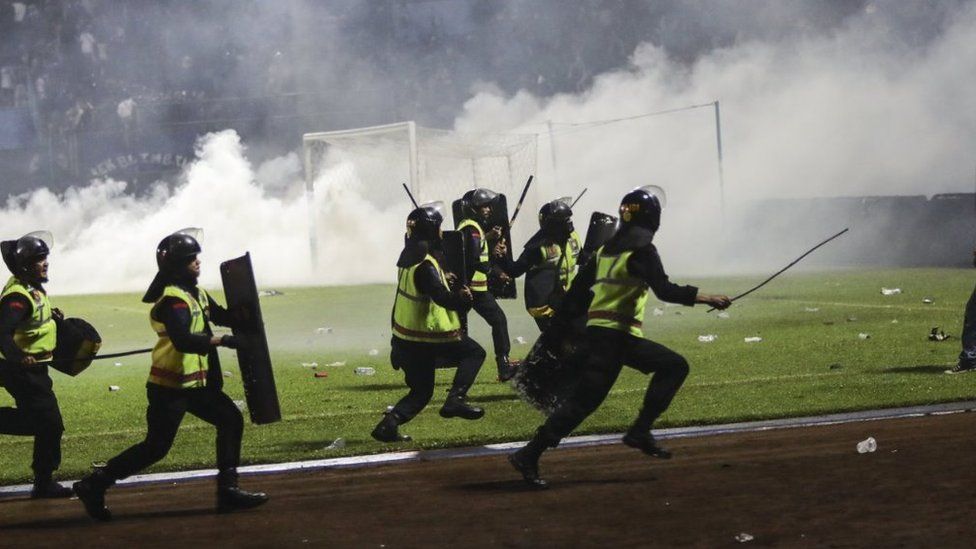 Tear gas fired by Indonesian police triggered last month's deadly crush at a football match which left 135 people dead, a report says.
The country's human rights commission also said that most of the deaths at the Kanjuruhan stadium in Malang, East Java, were caused by asphyxiation.
Komnas HAM also pointed to the excessive use of force by officers on 1 October.
Six people, including officers and organisers, now face criminal charges.
The disaster happened after Arema FC fans ran on to the pitch following their team's defeat to rivals Persebaya Surabaya, and tear gas was then fired, the body said.
Hundreds then tried to flee through the exits, which caused a deadly stampede.
Rules by Fifa, the world's governing football body, specifically state that no "crowd control gas" should be carried or used by stewards or police at matches.
Fifa described the crush as "a dark day for all involved in football and a tragedy beyond comprehension".
At a news briefing on Wednesday, Komnas HAM said the use of tear gas was the main cause of what was one of the world's worst football disasters.
"There needs to be legal responsibility," said chairman Ahmad Taufan Damanik.
The commission also accused the organisers of favouring commercial interests over safety standards.
And it urged the Indonesian authorities to audit all the stadiums across the vast country, warning that matches should be suspended if no improvements were made within three months.
Indonesia is due to stage U20 World Cup in 2023.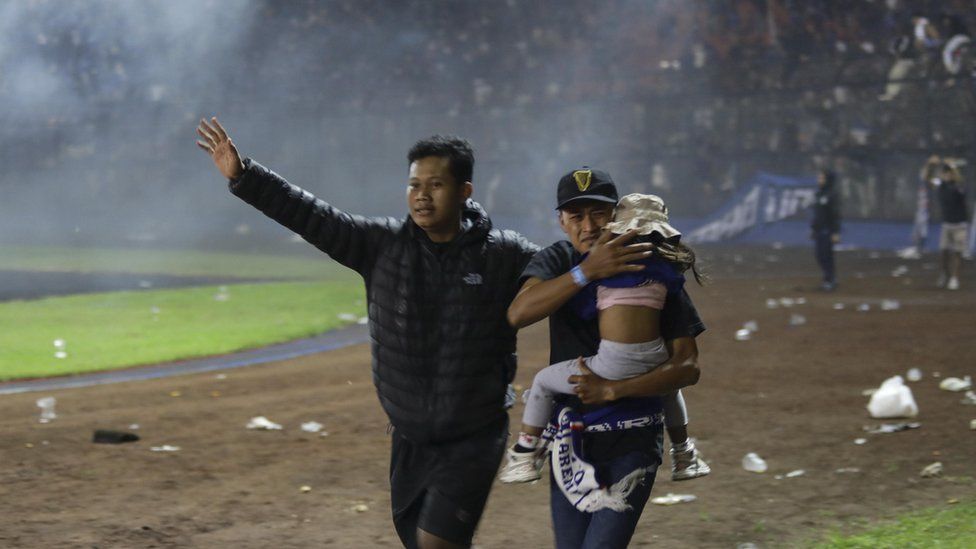 The commission's report echoes a government investigation that also found inadequate safety protocols and locked gates contributed to the tragedy.
Shortly after the disaster, the Indonesian football association (PSSI) launched an investigation, saying that the incident had "tarnished the face" of the game in Indonesia.
Violence at football matches is not new in Indonesia, and Arema FC and Persebaya Surabaya are long-time rivals.
However Persebaya Surabaya fans were banned from buying tickets for the game because of fears of clashes.
Chief Security Minister Mahfud MD posted on Instagram that 42,000 tickets had been sold for the match at Kanjuruhan stadium, which has a stated capacity of 38,000.
One of worst football disasters
The crush in Malang is one of the worst of a tragically long line of stadium disasters.
In 1964, a total of 320 people were killed and more than 1,000 injured during a stampede at a Peru-Argentina Olympic qualifier in Lima.
In 1985, 39 people died and 600 were hurt at the Heysel stadium in Brussels, Belgium, when fans were crushed against a wall that then collapsed during the European Cup final between Liverpool (England) and Juventus (Italy).
In the UK, a crush developed at the Hillsborough stadium in Sheffield in 1989, resulting in the deaths of 97 Liverpool fans attending the club's FA Cup semi-final against Nottingham Forest.