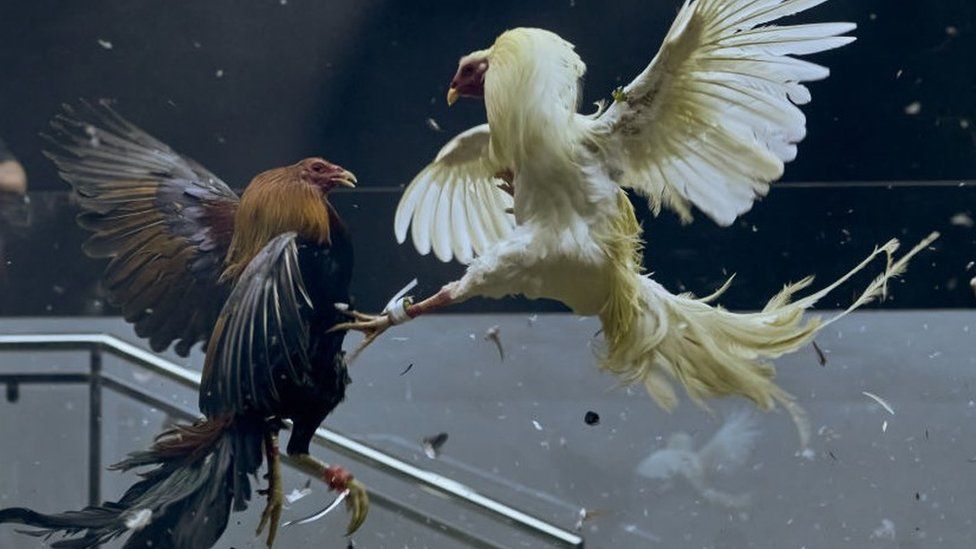 Six people have been charged over the kidnapping of a group of people linked to the world of cockfighting in the Philippines.
The group of six is thought to have been abducted on their way to a fight in the capital Manila in January.
It's part of a wave of mysterious disappearances to hit the industry, which is a popular betting sport.
Taxes from livestreamed cockfights helped the government replenish its finances after the Covid pandemic.
But former President Rodrigo Duterte eventually banned online fights, while allowing traditional cockfighting to resume.
The six suspects reportedly deny the allegations.
Meanwhile, three former police officers have also been charged with allegedly abducting a cockfighting enthusiast from his house in August 2021, according to the AFP news agency.
The victim had been accused of running a fake betting website, AFP reports.
The charges come as at least 27 people connected to the lucrative industry remain missing, but hope of finding people alive is fading.
"I wouldn't even want to call them missing cockfighters, but probably dead cockfighters," Justice Secretary Jesus Remulla said this week.
Cockfighting in the Philippines typically attracts large crowds, who bet high sums over which rooster will win in a fight to the death. Sharp metal spurs are tied to the birds' legs.
The sport is banned in many other countries but has become even more popular in the Philippines in recent years since Covid restrictions saw it move online.
Former President Rodrigo Duterte had resisted calls to ban "e-sabong" – the online version of the sport – following reports of addiction and violence, admitting that monthly taxes of roughly 640 million pesos ($11.5m; £9.6m) had helped to replenish the government's finances following the pandemic.
He eventually outlawed the livestreamed fights shortly before he left office in June. Traditional cockfighting has been allowed to resume.