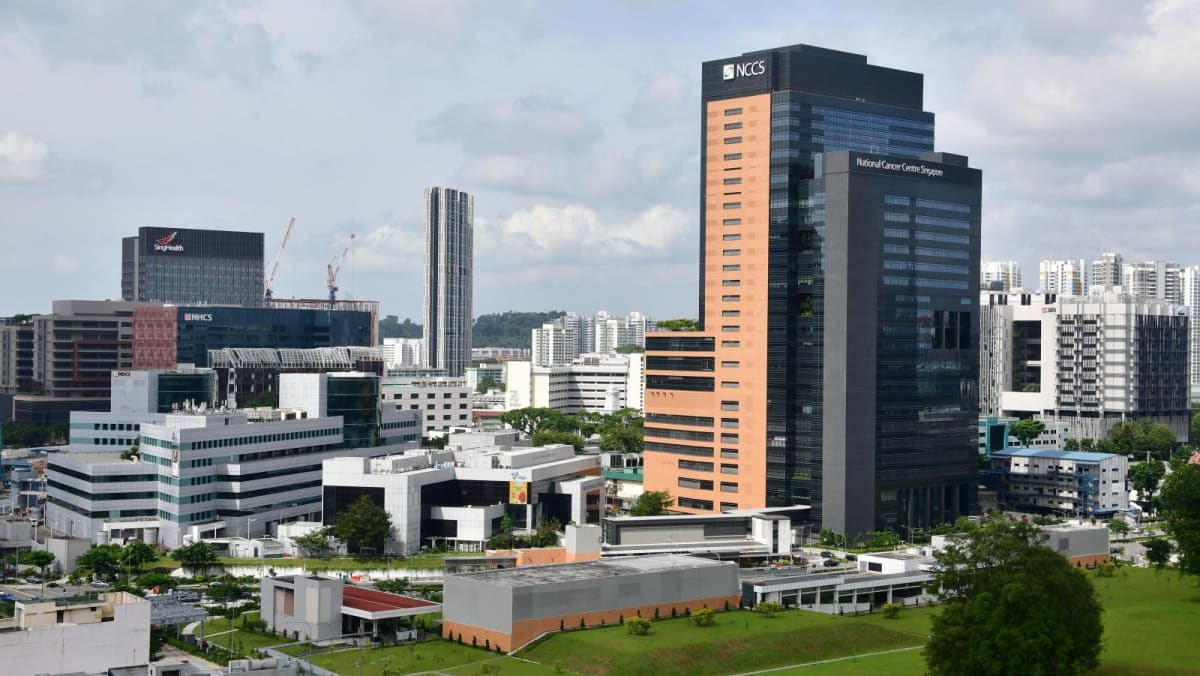 SINGAPORE: The new 24-storey National Cancer Centre Singapore (NCCS) was officially opened by Deputy Prime Minister Lawrence Wong on Thursday (May 18).
Accessible via a direct link bridge to Outram Park MRT, the new centre – which is five times larger than the previous premises – has nearly double the number of chemotherapy recliner chairs and beds as well as consultation rooms compared to before.
There are 108 recliner chairs and beds for chemotherapy treatment and 64 consultation rooms. In addition, the building also has three day-surgery operating theatres, two endoscopy suites and 10 radiation therapy facilities.
At the Ambulatory Treatment Unit (ATU), which sees around 150 patients each day, robots deliver prepared chemotherapy drugs from the oncology pharmacy to treatment suites.
According to NCCS, this helps to free up nurses to spend more time attending to patients.
The national compounding hub also features robotic arms to expedite the safe and efficient preparation of intravenous chemotherapy drugs.
Operations in the new building started progressively from December 2022, with all services fully operational since March this year.
While the centre expects to be able to handle double the number of patient visits compared to before by 2030, NCCS' CEO William Hwang said this will take some time.
"We have a doubling in capacity, in terms of the beds available and consultation rooms and otherwise, but capacity is also a factor of efficiency as well," said Professor Hwang during a media briefing on May 10.
"How that will pan out in the subsequent years is hard to say except to say that we were previously seeing about 160,000 patient visits a year and with a doubling capacity, hopefully we will have a doubling, in terms of ability to see those patients, contingent on … getting more manpower in the later years," he added.
He added that the centre has been progressively recruiting more staff over the past few years.
Speaking at the event, Mr Wong said the opening of the new centre was timely, given Singapore's ageing population.
"The sobering fact is that one in four Singaporeans are likely to develop some form of cancer over their lifetimes," he said, noting that close to 40 per cent of those diagnosed with cancer currently are aged 70 and above.
"As our population continues to age, we can, unfortunately, expect more people to be diagnosed with cancer," he added.
According to the Singapore Cancer Registry 2020 annual report, which was published in December last year, nearly 81,000 cancer cases were reported in Singapore between 2016 and 2020.
The new NCCS building was part of the first phase of extensive redevelopment and expansion plans for the Singapore General Hospital (SGH) Campus, which was first unveiled in 2016 by Prime Minister Lee Hsien Loong to meet growing healthcare needs.
Last year, Outram Community Hospital – which was also part of the first phase of the master plan – was officially opened.
During the launch in January last year, Health Minister Ong Ye Kung said that the total development budget for Phase One is about S$4 billion.
Other key developments include the Emergency Medicine Building, which will open progressively from 2024. This will be followed by the new SGH Elective Care Centre and National Dental Centre, which are expected to open by 2027.
Mr Ong had added that the second phase of the master plan will see the development of a new SGH complex and an improved internal road network.
RESEARCH AND ADVANCED TREATMENTS
Besides outpatient care services, the new centre also houses research facilities, where scientists and clinician-scientists can collaborate and drive research that can translate into better health outcomes.
This includes novel technologies to aid in complex single-cell, gene and protein profiling, enabling scientists to uncover the mechanics and development of cancer.
There is also a dedicated facility with chemotherapy chairs and beds for early-phase clinical trials, offering patients access to new cancer therapies.
The building also houses a tissue bank that will contribute to a better understanding of the evolution and development of cancer in Asian populations.
In addition, patients at the new NCCS will also have access to advanced cancer treatments such as proton therapy, which is an advanced type of radiation treatment, following regulatory approval.
NCCS' deputy CEO (Clinical) Lim Soon Thye said the co-location and integration of research and clinical services in the new building will help to boost collaboration and drive scientific inquiry which could lead to better patient outcomes.
Beyond improving cancer care, Mr Wong said the country must do more upstream through better prevention and early detection.
"Our real goal is to reduce the incidence of cancer to begin with," he said.
"We are allocating a lot more resources too, not just to treat people who are sick, but to prevent sickness to begin with."
This includes free screenings for breast, cervical, and colorectal cancer under the voluntarily national primary care programme Healthier SG.