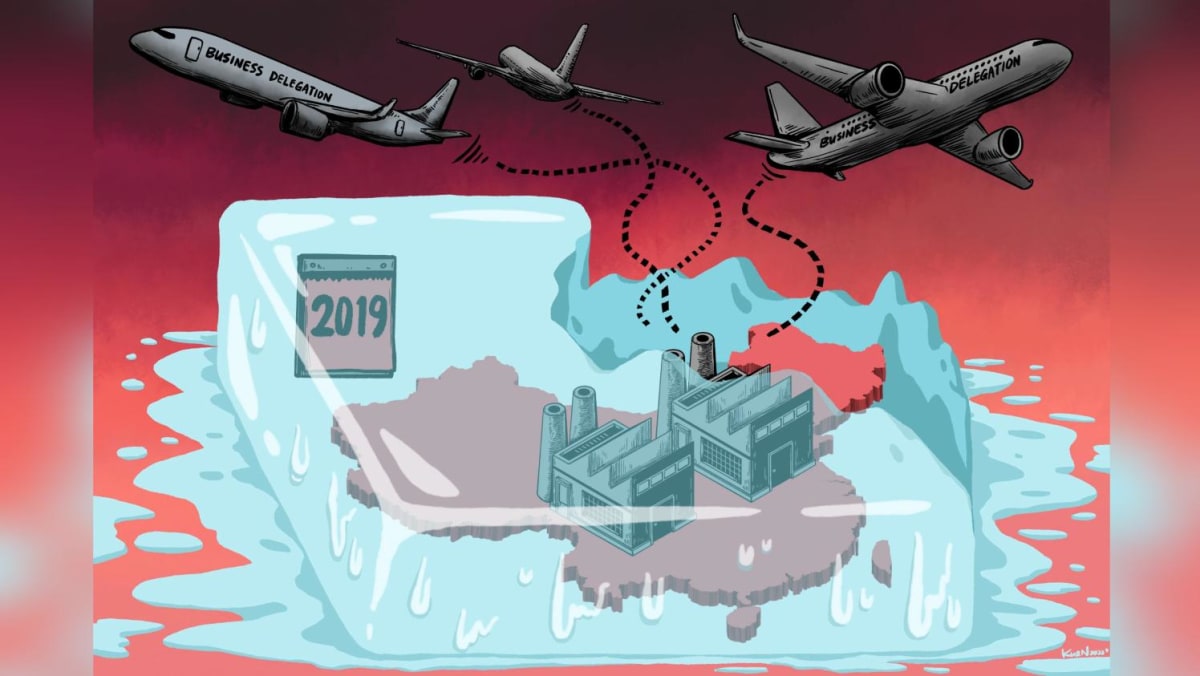 China still requires people arriving from overseas to spend time in hotel quarantine and home isolation, and the number of international flights has yet to return to normal, so those able to travel abroad remain a minority.
But despite the hurdles, some exporters found the costs of being trapped in China so great that they chose to travel overseas on their own rather than wait for governments to take the initiative.
Lu Hua, who owns a precision moulding and parts-processing company based in Guangdong, set off from China in early October to visit clients in North America and to prepare for a new factory in Vietnam. His team returned to China in late November, before Beijing pivoted away from its hardline zero-COVID policy, which relied on lockdowns, mass testing and quarantine.
While Lu worried that his team would be given a hard time by Chinese customs officers and risked having passports and visas cancelled at the airport when departing, he said he noticed a sudden change in the authorities' attitude days after its return.
"From the top leadership to local governments, export companies are warmly encouraged to travel abroad to attract more export orders," Lu said.
However, he said some orders might have been lost for good as more multinationals implement a so-called China-plus-one strategy by diversifying their supply chains out of China.
According to data from Descartes, a logistics consultancy, US containerised imports in October were up by 0.2 per cent compared with September. But imports from China fell 5.5 per cent, month on month, by 45,071 20-foot equivalent units. The decline from China was offset by gains from Thailand, South Korea, Taiwan, Japan and other countries.
"We will continue to see efforts towards diversification of supply-chain sourcing and manufacturing out of China," said Christian Roeloffs, co-founder and CEO of Container xChange, an online platform for container logistics.
"The pace at which this diversification will happen is really directly proportional to further disruptions that we will see in China owing to so many factors like the zero-Covid strategy, further production shutdowns, and rising geopolitical tensions. If these occur faster, the diversification also will follow pace."
China's exports fell 8.7 per cent, year on year, in November after a decline of 0.3 per cent decline in October, China Customs data showed.
Many local governments plan to send more delegations abroad to bring back export orders, but most economists expect China's exports to continue to decline in the first half of next year as the global economy slows down.
Chinese exporters are also worried about fiercer competition among themselves as the overseas market share available to them shrinks.
"The general environment is severe, and for small firms like us, the next step is to fight with the gloves off," Shen said.
With more short-term disruptions being seen as a severe wave of COVID-19 sweeps across China, Lu said there was an urgent need for the government to do more to restore overseas clients' confidence in the country's supply chain.
"That requires a lot of preparation and support from the government so that overseas customers can see that the Chinese government has introduced more pragmatic policies to ensure that ordinary people can travel freely, and that the supply chain will not be locked down and cut off arbitrarily," he said.
"The market needs such simple but real trust."
This article was first published on SCMP.