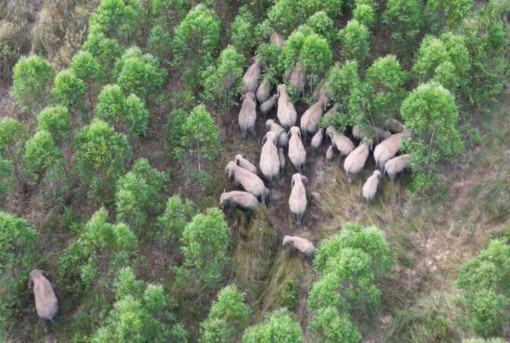 2023-12-09
Drones and bonfires part of effort to move elephants away from Prachin Buri farms
PUBLISHED : 9 Dec 2023 at 17:49
PRACHIN BURI: The last of some 150 wild elephants that attacked plantations in Kabin Buri district have been driven back into the forest, park officials said.
The herd, which usually stays within the boundaries of Khao Ang Rue Nai Wildlife Sanctuary in neighbouring Chachoengsao province, has ventured into sugar cane farms in tambon Wang Tha Chang and caused damage.
Sixteen teams, involving 160 officials and workers, were deployed to stop the herd from advancing further and lead them back to the forest to protect crops.
The operation, launched on Dec 6, was declared a success after the last of the herd were led back to the sanctuary near Ban Yao at tambon Tha Kradan in Sanam Chai district of Chachoengsao early Saturday.
Bonfires were used instead of firecrackers to direct the animals away from the community. The method was chosen to avoid upsetting the animals and risk endangering the teams involved.
Drones were deployed to pinpoint the herd's location and keep an eye on the elephants, while pickup trucks and agricultural machinery were also placed along the elephants' path.
Thanon Sopitcha, director of Conservation Area 1 Office of the Department of National Parks, Wildlife and Plant Conservation, urged residents to alert officials via the 1362 hotline if they spot any elephants that may have remained behind.
He thanked farmers for their patience and cooperation and apologised for any damage done to their crops.