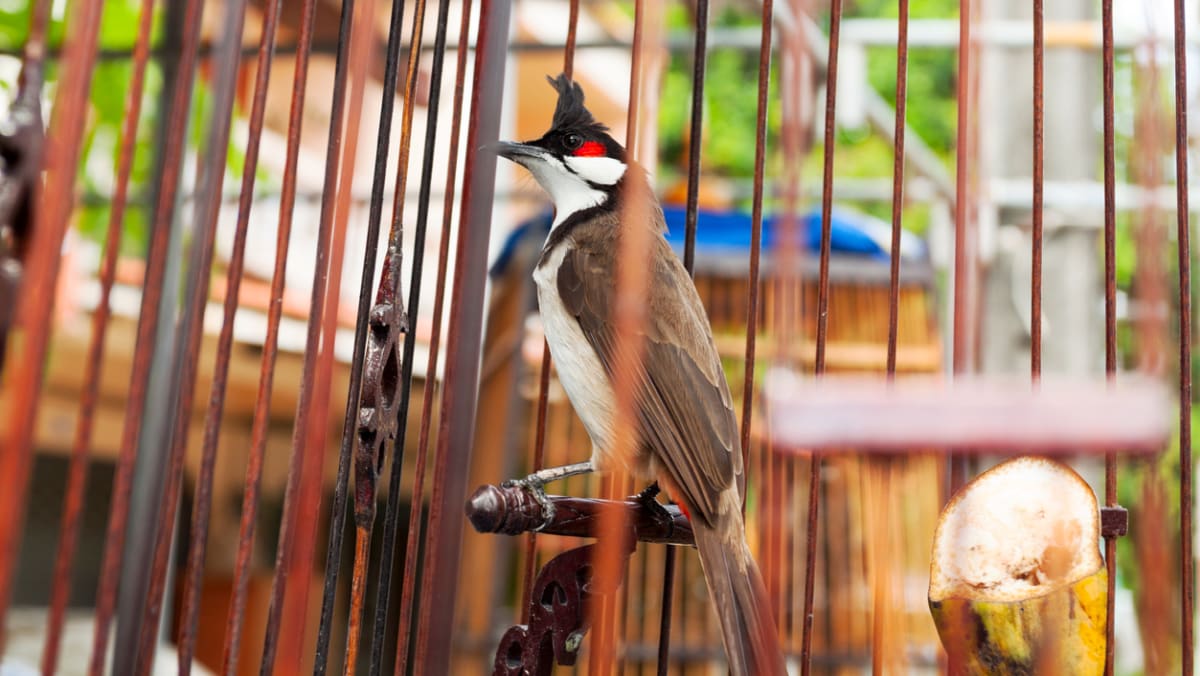 SINGAPORE: A woman went to trial on Thursday (Jan 26) for spraying insecticide at a neighbour's caged bird with a fan blowing the mist upwards from her flat window, causing the bird to suffer from coughing issues and breathing difficulties.
Chee Huiru, a 40-year-old Singaporean woman, is self-represented and is contesting the single charge of causing unnecessary pain and suffering to a Jambul bird under the Animals and Birds Act.
A passer-by, Mr Rahmat Ismail, was walking past Block 133, Edgedale Plains on Nov 11, 2021 on his way to his son's home when he saw something "unusual".
Mr Rahmat, who was the first witness for the prosecution, said he was walking by when he heard the sound of something being sprayed thrice.
He looked up and saw a hand sticking out from a flat on the third floor, spraying "something" upwards. A fan was laid flat on the ledge and was blowing in an upwards direction.
Mr Rahmat took a video of what he saw. The video showed a hand spraying mist from a green bottle upwards.
Mr Rahmat said there were three birds hanging in cages from the fourth floor, one level above the sprayer's unit.
At first, he thought the spraying could be aimed at insects as there were mango trees nearby. But he later concluded the birds were targeted as the spray was aimed exactly at them.
He later told his wife and daughter what happened and showed them the video. They told him to inform the owner of the birds, out of compassion for the birds as they could die.
That same day, he went to the flat where the birds were hanging, accompanied by his daughter.
He said a woman opened the door and he could hear birds chirping so he concluded it was the right flat. On her request, he sent her the videos he had taken.
WOMAN TESTIFIES ABOUT HER SHOCK
The woman was Madam Siti Kamariah Mahli. She testified that Mr Rahmat had gone to her flat on the evening of Nov 11, 2021, to inform her of "foul play on my husband's pet bird".
She said Mr Rahmat asked her to check if the birds were alive and she was taken aback.
She was "totally shocked" by this and later discussed with her husband on what to do. Eventually, she contacted SPCA to find out how to report a case of animal cruelty.
She was told to submit an animal feedback report under NParks, and did so.
On Nov 25, 2021, an officer from NParks went to Mdm Siti's flat to take down statements and take photos of the birds. He also took a photo of the flat below, with the fan that was still sticking out of her master bedroom window.
Of the birds that were hanging at the window, only one appeared to be affected and had respiratory problems.
Mdm Siti said she did not make any assumptions that the bird's coughing was due to "long-term foul play", instead thinking that this bird was sick all along.
Mdm Siti said she lived with her husband and three young sons at the flat since 2004, with no complaints from any neighbours except the accused.
About five years ago, Mdm Siti said she received an anonymous note under her main door saying that her air-conditioning compressor was too loud and to please have it changed.
She brushed it off as she did not know who penned the note, but Chee's husband subsequently knocked on her door.
He said he had been hearing loud thuds and banging at night, between 11pm and 3am. Mdm Siti's husband told Chee's husband that the noise could not be caused by his family.
Mdm Siti testified that she also often heard loud thuds from upper units, and said she once invited Chee's husband into her flat to hear the noise, which he acknowledged.
After this, Chee's complaints extended to the noise of chairs dragging and marbles dropping, said Mdm Siti.
She said she and her husband received visits from Housing Board officers, and that the town council received multiple noise complaints about her flat that she believes is attributable to the accused.
Mdm Siti also described another incident when she was in bed and her kids were asleep on a Sunday night. There was a loud thud from an upper unit, followed by a knocking sound from the unit below.
The sounds repeated, with the lower unit mimicking the upper unit's sounds, and Mdm Siti went downstairs to Chee's flat.
She asked if Chee knocked something on her ceiling, and she said Chee replied, "Yes, why?"
Mdm Siti said on Thursday: "I said, why don't you let me into your master bedroom and hear what you heard, because I also heard something. She let me in, then she said, of course you won't hear anything now, you've already asked your children to sleep. I told her my children were already asleep as the next day is a school day, but she did not believe me."
According to her, Chee then replied: "You think you all make noises we cannot make noise?"
Mdm Siti's husband also took the stand for the prosecution. He said the bird in question was named RSM as he had a loud voice. RSM refers to Regimental Sergeant Major, a rank in the army.
"The whole Bedok knew about the bird, because the bird got a really loud voice," said Mdm Siti's husband.
As RSM was having a coughing issue, he hung it outside his master bedroom window in a cage, hoping to try his own remedy by exposing it to sunlight and morning dew.
At the time, he had between five and seven birds at home.
After the case was reported to NParks, he was advised to take the bird to a vet, and he did so in December 2021.
A report by the vet indicated that the Jambul was quiet but responsive and had open-mouth breathing. The vet said it was highly likely that the Jambul had developed respiratory issues after inhaling the aerosol.
Mdm Siti's husband regularly administered the medication the vet gave for the bird, on top of his own remedies. But the bird died six months later at an estimated age of four to six years.
A Jambul can live up to 20 years, Mdm Siti's husband, a self-professed bird lover, said.
He said he received a lot of phone calls from the town council telling him it was hazardous to hang his bird outside.
"They came a lot of times, advise me not to hang my bird, but the problem is, there's a lot of people in my area and other areas hanging birds," he said.
"Even the flowerpot they put on the parapet. I don't find it so dangerous for me to hang my bird, because my cage is a very expensive cage, it's not a cheap cage."
He said nobody had ever complained about his birds, which he had been keeping since he moved in in 2004, until the COVID-19 pandemic period.
Ms Chee did not ask any questions of any of the three witnesses who testified, except Mdm Siti's husband.
On his claim that there were other blocks where birds were hung outside in cages, she said: "I only see your bird cage outside."
She also told the judge that she had only taken half a day's leave. After she was asked why she did that when the trial was set for two full days, she was told to contact her employer to extend her leave, which she did.
The judge asked Mdm Siti's husband how he knew the bird affected was RSM. He explained that he would place RSM in a cage every morning and hang him outside his bedroom window because of his coughing issue, so he was sure it was RSM.
"The bird still sing (after the incident)," he said. "But the breathing difficulty, you can see the mouth, (it's) like human asthma."
The trial continues.
If convicted of causing unnecessary pain and suffering to an animal, Chee could be jailed for up to 18 months, fined up to S$15,000, or both.