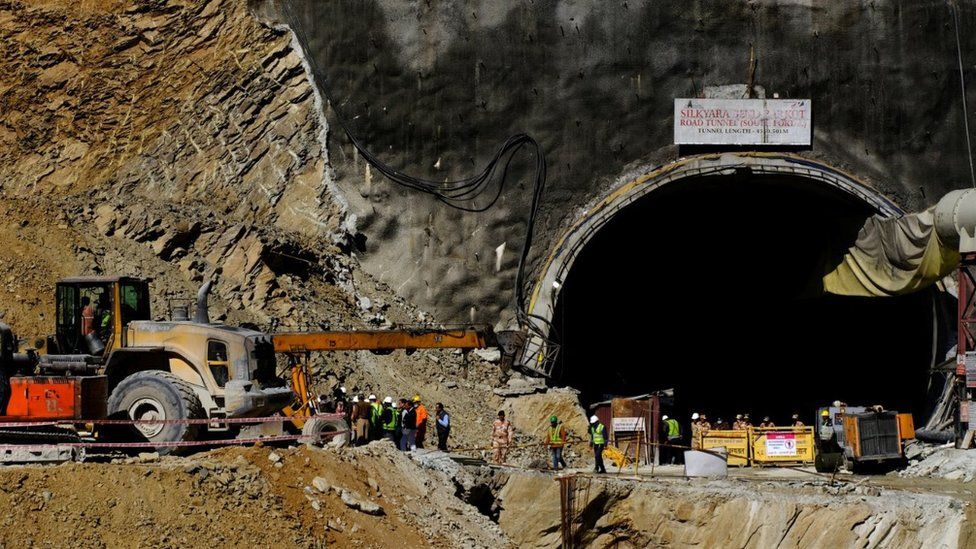 Rescuers in India are looking at fresh options to save 41 workers trapped in a tunnel for the past eight days.
New plans had to be conceived after work to push in metal pipes through the debris wall was halted and rescue teams were withdrawn after a cracking sound was heard from the tunnel on Friday.
Officials now say they are drilling two parallel tunnels which could provide an "escape route" to the trapped workers.
Part of the under-construction tunnel had caved in after a landslide.
The incident took place on the morning of 12 November in the northern state of Uttarakhand. Contact with the trapped men was established soon after that and they are being provided oxygen, food and water since then.
Explaining the latest rescue effort, Uttarakhand Disaster Management Secretary Ranjit Sinha told news agency ANI that they were "working on two side tunnels by the side of the main tunnel for escape".
So far, rescuers have been drilling inwards from the mouth of the tunnel. Efforts are now also on to drill from another side of the tunnel to reach the workers.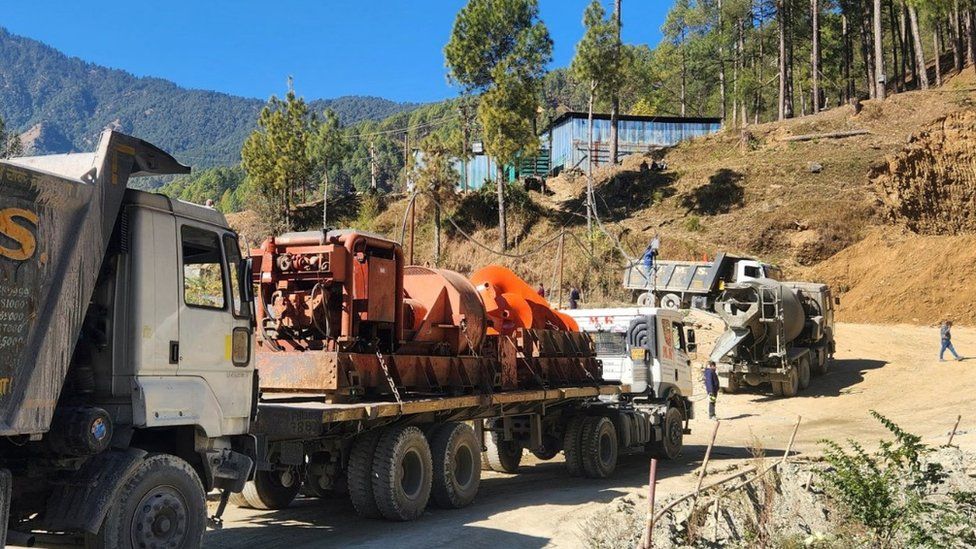 Federal Highways and Roads Minister Nitin Gadkari visited the site on Sunday and said rescue operations could go on for "two to three days".
Explaining that working on the Himalayan terrain was complicated, he said that two auger drilling machines were currently being put to work.
The first machine was drilling and working well as the strata was soft soil but encountered problems when it came in contact with rocks, he said, adding that experts had solved this glitch.
On Saturday, there was an angry confrontation between families of the trapped workers and those overseeing the rescue operations. The families had also staged a protest earlier last week asking officials to expedite the drilling.
Prime Minister Narendra Modi, meanwhile, has assured the families that "federal and state rescuers are working seamlessly" to save the workers. "Morale of the stranded workers should be kept up," he said.
The Silkyara tunnel in Uttarkashi district is part of the federal government's ambitious highway project to improve links between famous pilgrimage spots in Uttarakhand.
The mountainous state, where several Himalayan peaks and glaciers are located, is home to some of the holiest sites for Hindus.
BBC News India is now on YouTube. Click here to subscribe and watch our documentaries, explainers and features.


Read more India stories from the BBC: