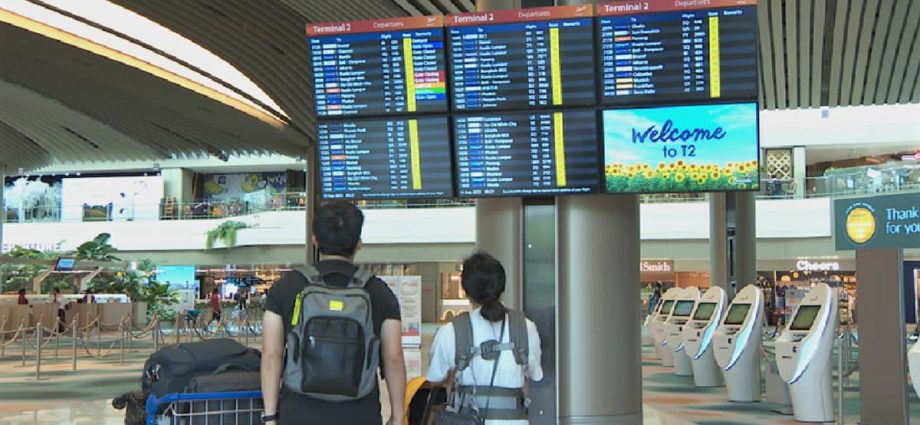 2023-12-08
Managing director of Oriental Travel Stanley Foo told CNA that the agency has been badly affected by the drop in Chinese visitors. It saw a 50 per cent decrease in bookings from Chinese visitors, compared to before the COVID-19 pandemic.
This group used to make up about 30 to 40 per cent of the tour agency's bookings, but the figure now stands at less than 10 per cent, he added.
"I don't really see them anymore, except for business travellers. The group travellers have really reduced dramatically," said Mr Foo.
"Pre-pandemic, tourists from China are the top three visitors coming to Singapore. So it's definitely affecting the tourism industry in Singapore badly, without them. We need their money."
In the hour after the announcement of the visa exemption agreement, online travel booking platform Trip.com saw an 80 per cent increase in the search volume for deals in Singapore, said Ms Ru Yi, the company's general manager for Singapore.
Searches for flight tickets and hotels also increased by 90 per cent and 50 per cent respectively, she added, noting that from January to October, 1.13 million Chinese tourists arrived in Singapore, making China the second-largest source of inbound visitors to Singapore.
Tour agencies and industry experts pointed to several factors as to why visitor numbers have yet to completely rebound.
Malaysia and Thailand also recently granted Chinese tourists visa-free access, and this new agreement will make Singapore more competitive on this front, said Ngee Ann Polytechnic senior lecturer in tourism Michael Chiam.
"The rate of recovery for Chinese arrivals depends on many factors, and they include foreign currency exchange rate and the rate of economic recovery of the Chinese market. Visa-free arrangements is just one of them," he added.
Mr Foo also pointed to the stiff competition from Singapore's neighbours, noting that spending a night in Singapore could be equivalent to spending three nights in Malaysia or Thailand.
"The prices of hotels went up dramatically, and this will affect a certain group of visitors," he added, noting that the price increase was about 20 per cent across the board.
The frequency of flights between Singapore and China is currently at about 60 to 70 per cent of pre-COVID levels, said Ms Li.
Singapore Airlines declined to disclose specific figures on demand for flights between Singapore and China due to "commercial sensitivities".
China is an important market for the SIA Group, which comprises Singapore Airlines and Scoot, said its spokesperson.
As of December, the SIA Group serves 23 destinations in China, compared to its 25 destinations before the pandemic, they said.
There are 150 passenger flights to and from China each week, with Singapore Airlines operating 70 and Scoot operating 80. This is an overall increase from about 132 flights in July, where there two airlines operated 49 and 83 flights respectively.
Research from the Nanyang Technological University (NTU) on China's outbound tourism in 2023 showed that the country's travellers tended towards revenge travel, with a "resilient eagerness" to go overseas, said Associate Professor Deng Xin with the university's business school.
The visa exemption agreement will eliminate the hassle of visa applications, she added. "I anticipate that the numbers will eventually reach or surpass pre-pandemic levels, although it might take some time."
Southeast Asia is China's top outbound destination, she added.
"Chinese travellers rank destination safety, unique scenery and being friendly to the Chinese as the top three destination considerations. They long to travel abroad, yet also want to feel at home when travelling in terms of the language and payment choices. Singapore meets all the criteria."