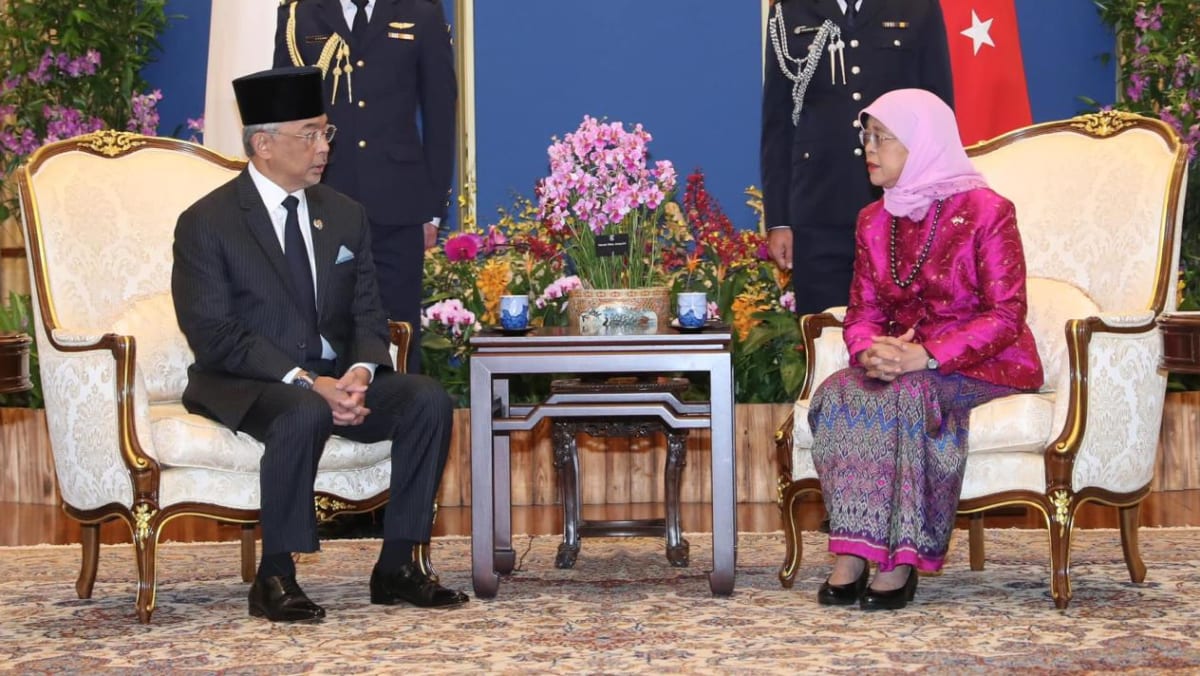 SINGAPORE: President Halimah Yacob will make a state visit to Malaysia from Mar 20 to Mar 22 at the invitation of Malaysia's King Al-Sultan Abdullah Ri'ayatuddin Al-Mustafa Billah Shah, the Ministry of Foreign Affairs (MFA) said on Saturday (Mar 18).
Madam Halimah will meet the king, Prime Minister Anwar Ibrahim, business leaders and overseas Singaporeans during her trip.
"This will be President Halimah's first state visit to Malaysia, and reciprocates His Majesty the Yang di-Pertuan Agong's state visit to Singapore in October 2022," MFA said.
During her visit, Madam Halimah will be accorded a state welcome ceremony at Istana Negara and will call on the king and the queen, Tunku Azizah Aminah Maimunah Iskandariah.
After the ceremony, Mdm Halimah will plant a gelam tree in the palace courtyard. The president and her husband, Mr Mohamed Abdullah Alhabshee, will then have a new orchid hybrid, the Vanda Halimah Yacob Mohamed, named in their honour.
"This is the first time that a tree planting ceremony and an orchid naming ceremony have been incorporated into a state visit to Malaysia," MFA said. "Their majesties will also host a state banquet in (the) president's honour."
Mdm Halimah will then receive a call from Mr Anwar and, in her capacity as chancellor of the National University of Singapore, meet the Sultan of Perak and chancellor of the University of Malaya Nazrin Muizzuddin Shah, MFA added.
Also on Mdm Halimah's itinerary include a meeting with Singaporean and Malaysian business leaders, a reception hosted for Singaporeans in Malaysia and a visit to the Girl Guides Association of Malaysia.
In addition to her husband, the president will be accompanied on her trip by Minister in the Prime Minister's Office Maliki Osman, Minister of State for Trade and Industry and Culture, Community and Youth Low Yen Ling, MPs Murali Pillai, Xie Yao Quan and Yeo Wan Ling, and officials from the President's Office, MFA and the Ministry of Trade and Industry.
"During President Halimah's absence, Mr Eddie Teo, chairman of the Council of Presidential Advisers, will exercise the function of the Office of the President," MFA said.