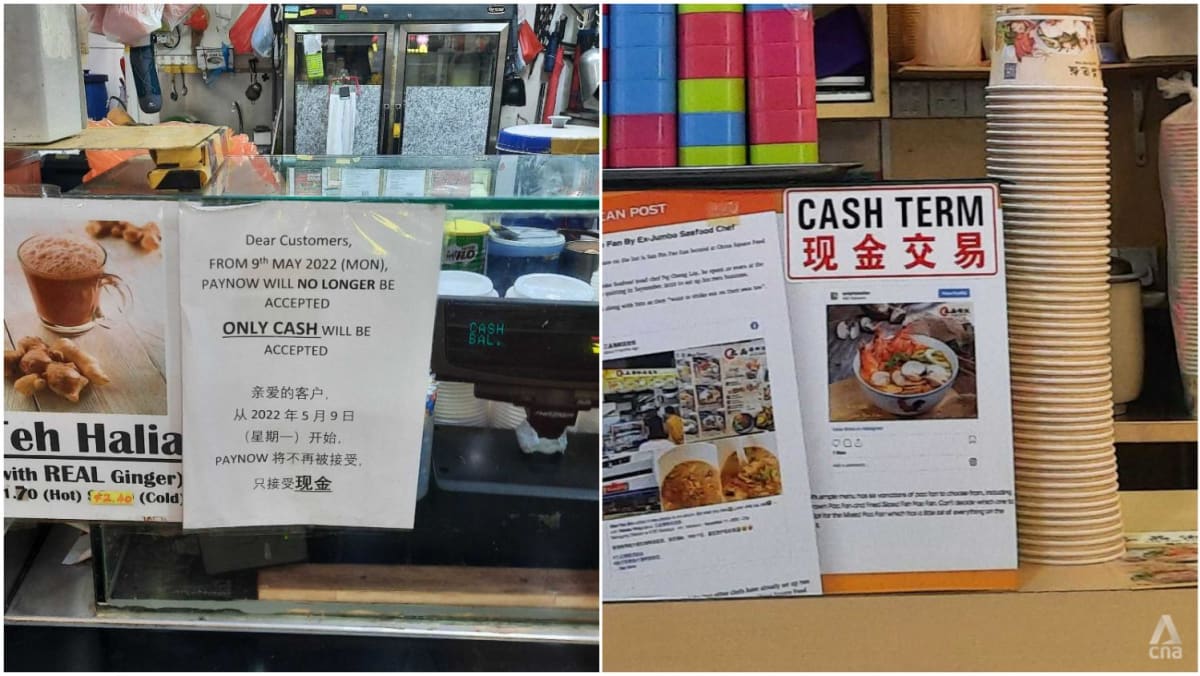 TECH ISSUES, DISHONEST CUSTOMERS
CNA visited one of the stalls in Mr Cheng's post, a beverage stall at China Square Food Centre. A sign had been put up at the stall stating that as of May 9, 2022, all transactions had to be made in cash and that PayNow would no longer be accepted.
At hawker stalls, e-payments are typically made by scanning a QR code displayed at the stall front with a payment app such as PayNow, a real-time funds transfer service.
A worker at the stall told CNA that some customers refused to show the transaction page as evidence of their e-payment.
During busy hours, it is also more efficient to collect cash rather than wait and confirm that an e-payment was successful, the worker said.
Cash-only food stalls make up the minority in Singapore's push for hawkers to go digital. Senior Minister of State for Sustainability and the Environment Amy Khor said in Parliament on Mar 2 that more than 70 per cent of cooked food stall holders in hawker centres accepted e-payments.
Support is available at 37 hawker centres to help hawkers adopt technology, Dr Khor said.
The move towards cashless transactions for hawkers began years ago.
In 2020, a Hawkers Go Digital programme was launched to encourage the adoption of e-payments. The government initiative included cash bonuses for hawkers who achieve a certain number of digital transactions.
At Amoy Street Food Centre, in the heart of the central business district, signs on the walls proclaim that it is a cashless food centre. While most stalls there had QR codes displayed visibly, CNA found a handful that only accept cash.
One such stall holder, Madam Tuan Ngap Eng, said she has heard of e-payments but did not want the trouble of dealing with potential technical issues.
The 84-year-old, who has been a hawker most of her life, said that she would not know what to do or who to turn to should problems arise.
"I heard from other people that some people cheat and don't actually pay," said the Hainanese chicken rice stall owner, referring to incidents where customers flash screenshots of past payments to deceive stalls into thinking they have paid.
Another stall owner in the food centre, Mr Quek Siak Kang, said he only uses his mobile phone for calls and was not familiar with digital payments technology.
He would have continued using a basic Nokia phone had his child not bought him a smartphone, said the 61-year-old, who operates a Teochew kway chap stall.
Both hawkers said they handled stall operations by themselves and had no one to help with digital transactions.