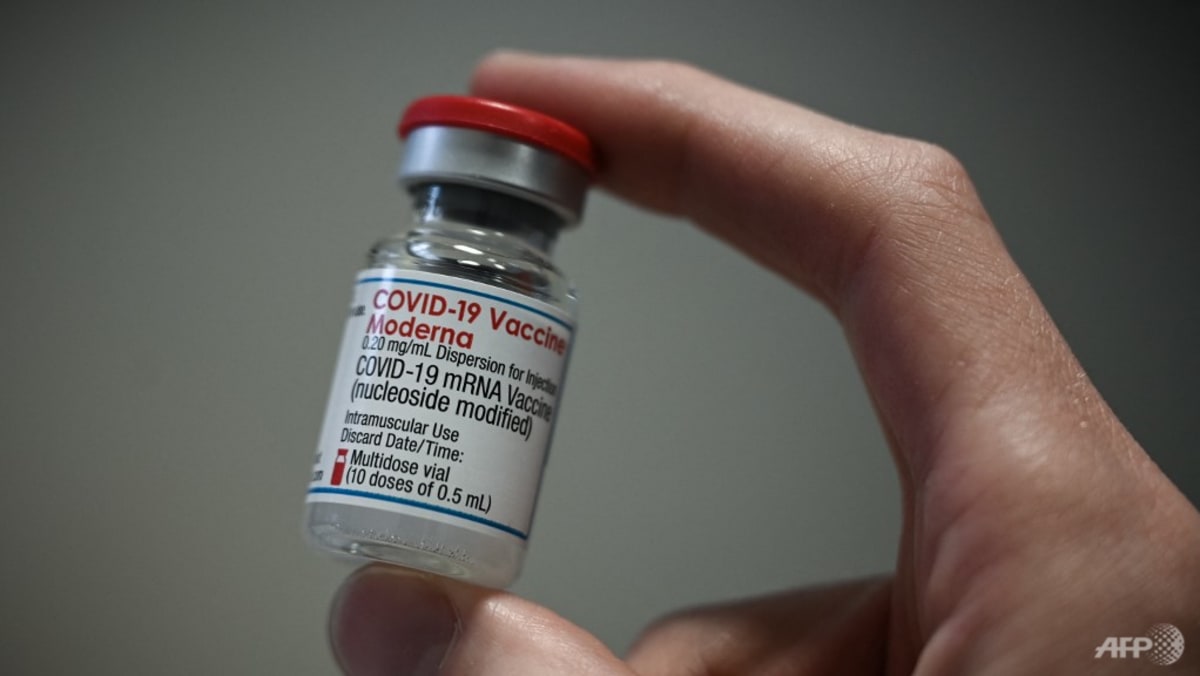 SINGAPORE: Moderna's updated bivalent COVID-19 vaccine that will be used in Singapore as a booster shot will help create antibodies against the BA.4 and BA.5 Omicron variants as well, Moderna's chief medical officer said on Wednesday (Sep 21).
Earlier this month, the Health Sciences Authority (HSA) granted interim authorisation to Moderna's bivalent COVID-19 booster vaccine, which targets both the original strain and the BA.1 variant of the coronavirus.
The BA.1 variant was the dominant strain in Singapore in the early parts of the Omicron wave, but the numbers of BA.4 and BA.5 cases have risen.
On Wednesday, Moderna's chief medical officer Dr Paul Burton told reporters that the company has two boosters – the mRNA-1273.214 that Singapore is receiving, and the mRNA-1273.222.
The mRNA 1273.214 booster targets mainly the original strain and BA.1 variant. It has been authorised in Singapore, the UK, Switzerland, the European Union, South Korea, Japan, Taiwan and Australia.
The other booster targets the later BA.4 and BA.5 variants, and is only authorised in the United States.
Dr Burton said the bivalent vaccine that Singapore is receiving also creates "very high" antibody levels against the BA.4 and BA.5 variants.
He said both boosters are "excellent", and they target critical members of the Omicron strain. It comes down to what countries or regions want, he added.
Data from the firm was "extremely reassuring" that the BA.1 booster also creates high antibody levels against BA.4 and BA.5, said Dr Burton.
HSA said preliminary data from an exploratory analysis suggested that the BA.1 booster may stimulate antibodies against other variants, including the Omicron BA.4, BA.5, Alpha, Beta, Delta and Gamma.
"(This is) so important, because already now we're seeing new Omicron subvariants coming along. We already know about this BA2.75.2 variant that has almost complete immune escape against antibodies generated either by natural infection or by early versions of the vaccine," he said.
"So it's important that people get vaccinated now and begin to … rebuild that immunity against these new variants."
As of Tuesday, 93 per cent of Singapore's population has completed the full vaccination regimen, while 80 per cent have received booster shots.
When asked how vaccines will keep up with an evolving SARS-CoV-2 virus, Dr Burton said the original Moderna vaccine created antibodies against the Delta variant, even though it was not created specifically to target Delta.
By creating a bivalent booster that targets both the original virus and BA.1, a broad set of antibodies will be created.