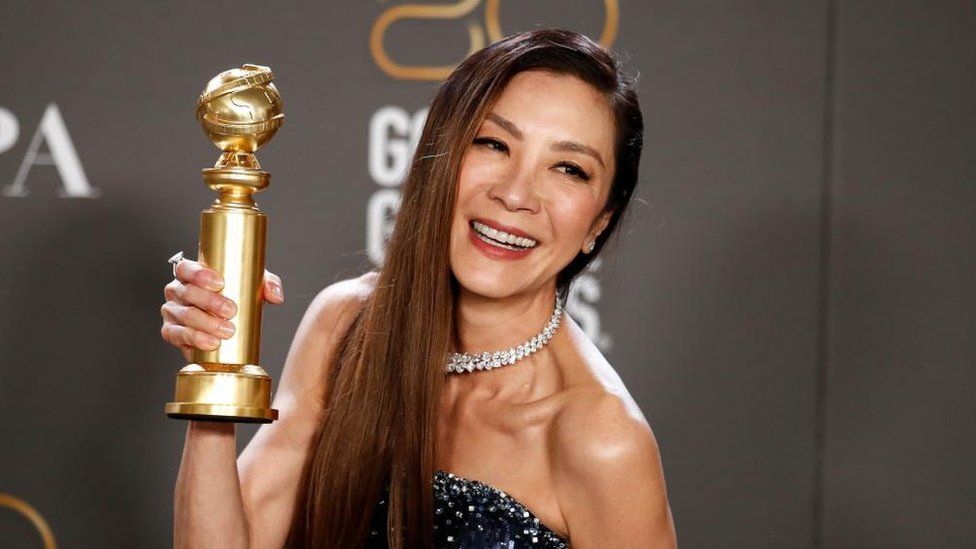 Chinese fans are celebrating the Oscar nomination of Michelle Yeoh for Best Actress, with some calling her "the pride of Chinese people everywhere".
Yeoh was nominated for her starring role in Everything Everywhere All At Once, which also earned her a Golden Globes win earlier this month.
News of the Asian superstar's Oscar nod trended on Chinese social media platform Weibo as many fans rejoiced.
She will become the first Asian woman to triumph in her category if she wins.
Yeoh is the first Malaysian and also the first woman of Chinese descent to gain an Oscar nomination for Best Actress.
Yeoh's co-stars Ke Huy Quan and Stephanie Hsu, as well as director Daniel Kwan, were similarly honoured.
Quan, a former child star who first gained fame through movies such as Indiana Jones And The Temple of Doom, is nominated for Best Supporting Actor.
Hsu is up for Best Supporting Actress, while Kwan is nominated for Best Director alongside co-director Daniel Scheinert.
In addition, Vietnamese-American actress Hong Chau garnered a Best Supporting Actress nomination for her role in The Whale.
But it was news of Yeoh's nomination which sparked the most discussion among Chinese people, for whom she is a household name.
She first rose to fame via her roles in Hong Kong action movies in the 1990s, starring alongside the likes of Jackie Chan and Jet Li.
In Hollywood, she gained prominence with Tomorrow Never Dies, a James Bond film, and the Oscar-winning kungfu film Crouching Tiger, Hidden Dragon.
More recently, she has featured in Crazy Rich Asians and Star Trek: Discovery. Yeoh is also a part of the Marvel Cinematic Universe, starring in Shang-Chi and the Legend of the Ten Rings.
"Make Asian women proud," wrote one commenter on Weibo, where the hashtag about her nomination has been viewed 130 million times.
"Everyone respects her wholeheartedly because she has broken so many barriers and broadened their perspectives," said another.
One netizen added: "She's doing it for all of us."
Many Weibo users in China also called for Everything Everywhere to be screened without cuts. The film has been shown in many parts of Asia including Hong Kong and Taiwan, but has yet to be screened in mainland China, which maintains a strict quota for foreign films.
The Oscars ceremony will be held in March.
You might also be interested in: