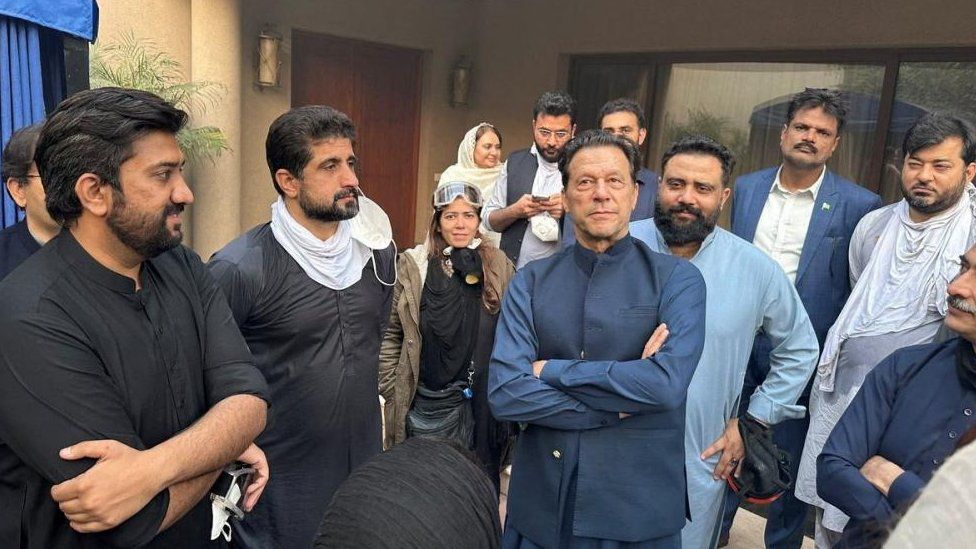 Pakistan's main opposition leader Imran Khan has greeted supporters outside his home, just hours after there were violent clashes as police tried to arrest him.
He addressed the crowd and took pictures with those gathered near his compound in the city of Lahore.
In one video, he can be seen wearing a gas mask. Police fired tear gas shells during clashes throughout the night.
One official told the BBC that the arrest operation had been paused.
Punjab Interim Information Minister Amir Mir said the court-ordered operation to detain Mr Khan was suspended on Wednesday to allow a cricket tournament to take place nearby, as the stand-off was causing major traffic disruption.
He said the operation would likely continue after the final of the Pakistan Super League (PSL) on 19 March.
No international cricket was played in Pakistan for six years following an attack on the Sri Lanka team by gunmen in 2009. It also took years for international players to return, and the ongoing tournament involves a large security operation.
"We can't afford to risk the security and safety of the PSL," a senior police official told the Reuters news agency.
Officers and paramilitary rangers were seen leaving the Zaman Park suburb where the house is located, with some reportedly abandoning roadblocks and checkpoints.
Mr Khan then appeared outside and spoke to his supporters. "The police and rangers sent to harm Imran Khan were pushed back by the people," his PTI party Twitter account posted.
The 70-year-old, who was ousted as prime minister last April, is facing allegations he sold state gifts while in office. He says the case is politically motivated.
On Tuesday, officers in riot gear fired tear gas shells and water cannon to disperse hundreds of angry supporters of Mr Khan at the compound. Some of the crowd threw stones and bricks.
Police then tried to force their way into the compound to arrest Mr Khan for failing to appear in an Islamabad court.
He has said he did not appear because of security concerns as two militant attacks had previously taken place there. The politician has offered to sign a guarantee that he will appear in court on Saturday.
Mr Khan earlier told the BBC there was "no reason" for police to arrest him as he had taken protective bail until Saturday. He also said the government was determined to put him behind bars after previous failed attempts.
He said the authorities were trying to arrest him to stop his party from taking part in forthcoming elections. But he added: "Whether I am in jail or not they will not be able to stop my party winning."
Government minister Marriyum Aurangzeb said the move had nothing to do with elections and police were only complying with court orders.
She claimed that Mr Khan was using his party workers, women and children as human shields to evade arrest and stoke unrest.
Since being ousted from office, Mr Khan has been a vocal critic of the government and the country's army. He has toured the country delivering fiery speeches calling for elections due later this year to be held early.
He has kept up pressure on his successor Shehbaz Sharif with demonstrations and blames him for an assassination attempt in November in which he was wounded in the leg.