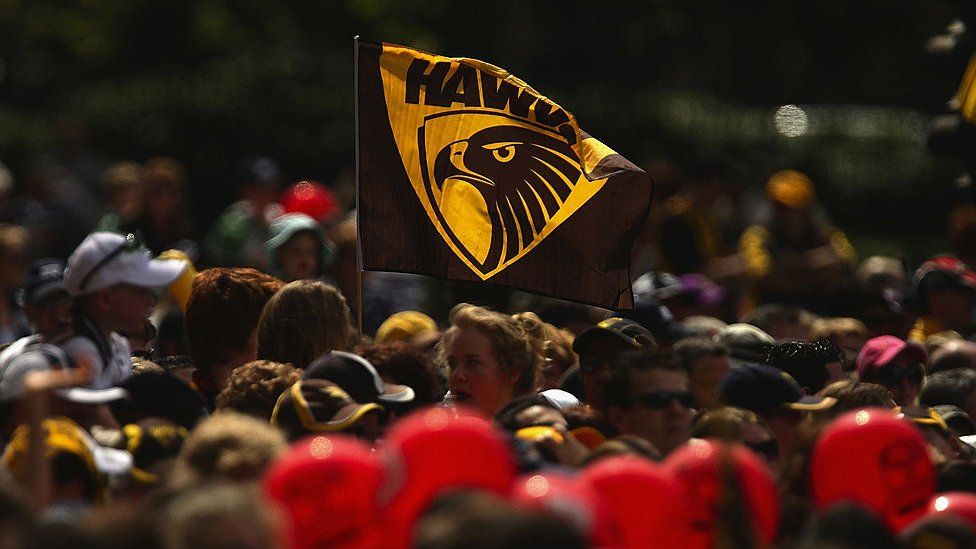 Prominent Australians have called for an inquiry into racism in the Australian Football League (AFL) amid a furore over allegations at one club.
Indigenous players at the Hawthorn Football Club were isolated from family, told to leave their partners, and one alleges he was asked to end a pregnancy, the ABC reported.
The league has vowed an investigation into the allegations at Hawthorn.
Former coaches at the centre of the accusations have denied wrongdoing.
The allegations have reportedly emerged from a review of Hawthorn's treatment of Indigenous people which is yet to be released.
Australia's government called the claims "nothing short of sickening".
The ABC interviewed three unnamed players who were at the Australian Rules football club – also known as the Hawks – between 2005 and 2021. During that time, they say they were forced to choose between their careers and their families.
Former AFL player Eddie Betts, an Aboriginal man, said he was saddened but not surprised to learn of the allegations. He said they reminded him of the Stolen Generations – a period in Australia's history in which Indigenous children were forcibly removed from their families.
"Every football club should come out and do an external review, contact the Indigenous players and past Indigenous players and see how that footy club was," Mr Betts told local network Fox Footy.
Western Australia's Indigenous Affairs Minister Tony Buti has echoed those calls for a wider review, as has the AFL Players' Association (AFLPA).
"What is clear is that the AFL industry has an issue with the treatment of First Nations and multicultural players," AFLPA chief Paul Marsh said in a statement.
Shaun Burgoyne, a pioneering Indigenous player at Hawthorn during the period, said he was shocked at the allegations and only just learned of them.
"It's very confronting… because I would've helped, and I would've definitely been able to hopefully prevent some of those things from happening," he said.
On Wednesday, AFL chief executive Gillon McLachlan said an independent panel would be appointed to investigate the allegations at Hawthorn.
He called them "challenging [and] harrowing", but said "natural justice" must be afforded to those accused.
Former Hawthorn head coach Alastair Clarkson has said he is "shocked" by the allegations against him and rejects them.
He was due to begin coaching at another club in November, but has delayed his start while the AFL's investigation is ongoing.
Brisbane coach Chris Fagan – who was at the Hawks during the period in question – also denies the allegations. He has said he will take leave during the investigation.
Hawthorn's former player manager Jason Burt has also taken leave from his current job at a Melbourne school.
Mr Betts has spoken about his own experiences during his 16-year-career at clubs Carlton and Adelaide, saying he heard racist comments every week.
The AFL will play its biggest annual match, the grand final, on Saturday.


You may also be interested in: