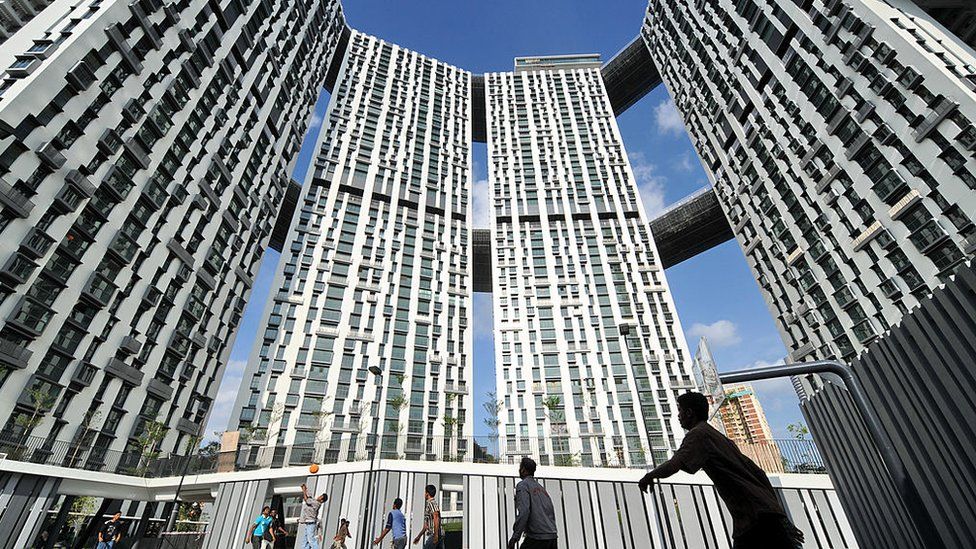 At the end of last year, the lease on Eva Teh's flat in central Singapore came up for renewal.
The Singaporean and her husband were expecting their monthly rent to rise. What they weren't prepared for was the 60% hike proposed by their landlord.
"We immediately went to search for available apartments. What we found gave us another shock. Rents have soared," she tells the BBC.
"The thought of not being able to afford a roof over our heads terrified us," she adds. "It felt like doomsday."
Ms Teh says she had little choice but to negotiate with her landlord for a better deal.
Now, they pay S$2,900 ($2,185; £1,732) a month for their one-bedroom home, up from S$1,950 before the rent hike.
"To cope with the increase in rent, I'm forcing myself to work harder so I can make more money," Ms Teh, who is a media freelancer, says.
"In months where I can't make ends meet, I will have to dip into my savings. Fortunately, we have an emergency fund for days like this."
She is not alone. Surging rents have become a major issue in the South East Asian country.
Private housing rents, which rose last year at the fastest pace in over a decade, have continued to climb in recent months.
Prices are rising across the city-state's property market, with rents for properties in public housing blocks and high-end homes heading higher.
According to real estate consultancy Knight Frank, Singapore now has the fastest rising luxury property rents, after overtaking New York.
Rents have jumped as the pandemic delayed building projects and brought more locals into the market, the country's Housing and Development Board (HDB) and Urban Redevelopment Authority (URA) tell the BBC.
"Rental demand has also increased as non-residents are returning to Singapore to work amidst the robust recovery from Covid-19," they add.
The country's rental market has long been dominated by foreigners. This is because the majority of Singapore's 5.6m residents have bought long leases on subsidised public housing.
Traditionally, Singaporeans would not leave their family home until they got married, but that's now changing.
There is an increasing trend for younger Singaporeans choosing to rent, Tan Tee Khoon from the PropertyGuru real estate portal says.
"They wish to have their own space and live among a like-minded community. For that reason, co-living has become a more popular choice in recent times," he adds.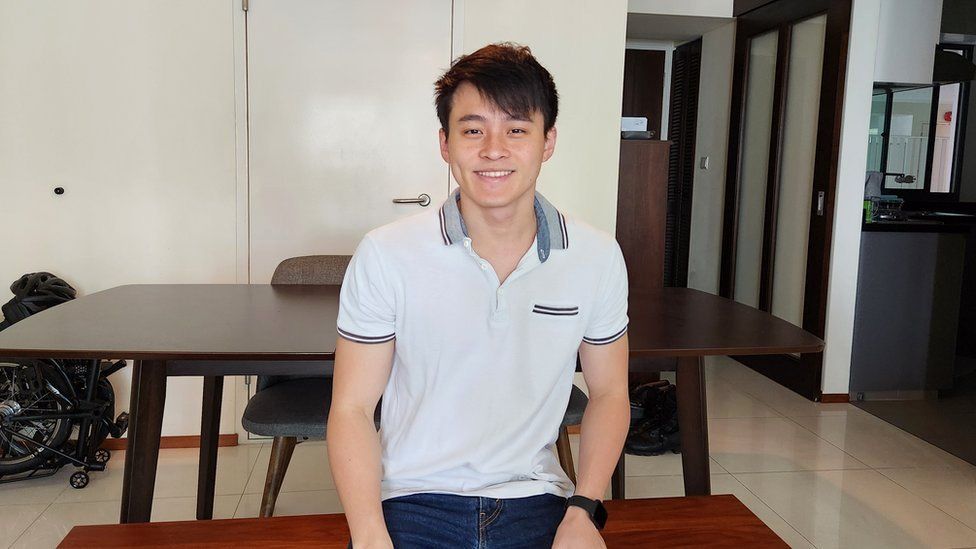 When Singapore's pandemic restrictions were in place in 2021, Pearlyn Siew moved into a co-living property, where she had her own room and shared amenities, including bathrooms, a kitchen and laundry facilities.
"I needed space from my family after being in the same house throughout Covid. It felt really suffocating," she tells the BBC.
"My parents were not agreeable and we were on pretty bad terms," she adds. "But my relationship with them improved after I got the space to take care of my own mental well-being. I was able to connect with them with a healthier nervous system."
Meanwhile, Asher Chua moved out after struggling to work from a flat that he shared with his parents and three siblings.
"When your siblings are not working and you're living in the same room, your schedules tend to conflict. It becomes quite tough to live together when you are not in the same life stages," he says.
Both Asher and Pearlyn are unmarried and under the age of 35, which means that they do not yet qualify for public housing.
"The eligibility rules limit access to affordable housing for singles, regardless of the individual's aspiration to have a place of one's own," says sociologist Chua Beng Huat.
"Families have a greater need for housing than single individuals, when the HDB is always trying to catch up with demand," Mr Chua adds.
The rent increases have also hit the LGBT community, who make up a significant portion of renters.
"While housing policies which affect singles also affect the LGBT community, the community has its own set of problems," real estate agent William Tan says.
"Many people are not able to stay at their family home because of an unfriendly, dangerous or toxic environment. This forces them to rent," Mr Tan adds.
There is some good news though, as rents are expected to fall with "a significant housing supply coming onstream over the next few years," HDB and URA says.
Close to 40,000 public and private homes are scheduled to be completed this year. That is the most in five years, according to official estimates.
Another 60,000 homes are expected to be completed by 2025.
"As the supply comes onstream, Singaporeans who are temporarily renting while waiting for the completion of their new homes will vacate their rental units, and help ease the rental market," HDB and URA adds.
"The government will continue to monitor the property market closely and adjust our policies as necessary."
However, Ms Teh will have to keep renting until her public housing apartment is ready in three years time.
"We talked through every single option that we had. Moving in with our family was not an option because our parents live overseas," she says.
"I'm hopeful that rents will go down as more new flats are completed. I think nobody could have prevented this from happening, because nobody could stop Covid from spreading."