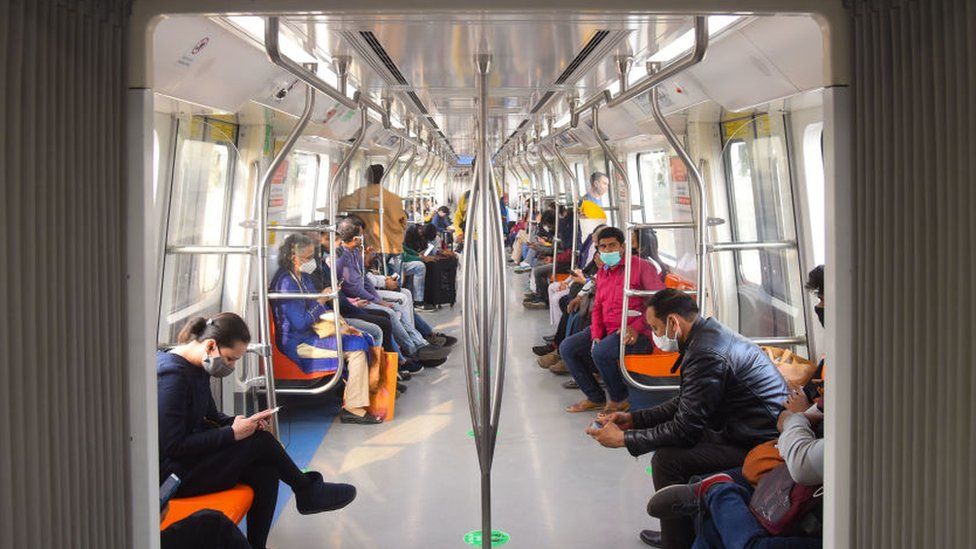 The Delhi Metro network, a symbol of sleek, air-conditioned train travel in modern India, seems to have become a hotspot for public displays of affection.
Last week, a video of a young couple kissing on a train in the capital sparked a row after it went viral on social media.
The video, which shows a woman lying on a man's lap as they kiss, prompted the Delhi Metro Rail Corporation (DMRC) to ask commuters to report any "objectionable behaviour" they noticed.
The corporation also promised to "intensify the number of flying squads" to monitor such instances.
The video and the criticism it received online have sparked a fierce debate around moral policing and public obscenity in the country.
But the definition of "objectionable behaviour" is a slippery one.
For example, some of the responses to the DMRC on social media are quite tame by most standards – a young couple sitting together with the woman resting her head on the man's shoulder.
At the same time, no one thinks a train coach is an appropriate place for masturbation. Last month, a video of a man performing the act in a Delhi Metro coach prompted a stern warning from the Delhi Commission for Women.
While a majority of people would agree that masturbation is not acceptable in public places, it can still be tricky to draw boundaries between sexual acts and acts of physical affection, especially when performed in collective spaces.
In 2018, angry passengers beat up a couple for hugging each other in the eastern Indian city of Kolkata. The incident led to outrage on social media, with many people urging citizens to "stop moral policing" young couples.
In 2019, a CCTV video of a couple in a "compromising position" at a Metro station in Delhi ended up on a porn site.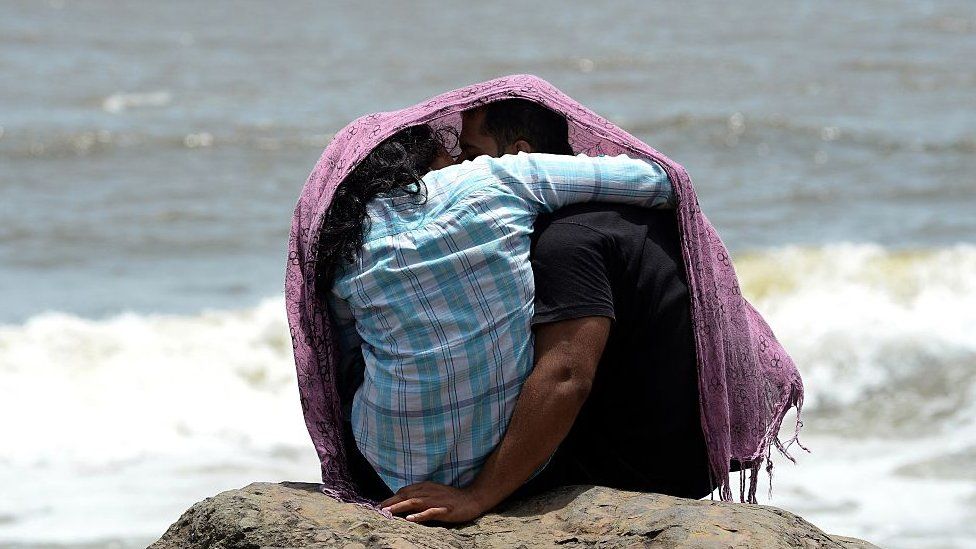 PDA (as public display of affection is often called here) has a long and convoluted history in India, a country dogged with the cliché of giving the world the Kamasutra – an ancient book on erotic love – while frowning upon onscreen kisses.
In 1981, when then Prince Charles visited a film set in India, actress Padmini Kolhapure welcomed him with a garland and an unscripted kiss on the cheek. That made her famous as "the woman who kissed Prince Charles", though she said in an interview years later that "it was no big deal".
But it could have been. In 2007, when Hollywood superstar Richard Gere gave Bollywood actress Shilpa Shetty a peck on the cheek at an AIDS awareness event, he was accused of insulting Indian culture.
Gere claimed he was trying to send the message that kissing was safe, but a case was registered against Shetty for performing an "offensive act" in public.
Over the past few years, onscreen kisses and acts of intimacy have become more common in Indian films and web shows.
But in a country as populous as India – where most young people still live with their families – privacy is always an issue.
Couples seek out moments of romantic togetherness in gardens, parks and even in ancient monuments.
In Kolkata, the grounds of the grand marble edifice to Queen Victoria have traditionally been a haven for courting couples. After dark, the police routinely blow the whistle to disperse couples sitting behind bushes, all under the stony gaze of the monarch who gave the world Victorian morals.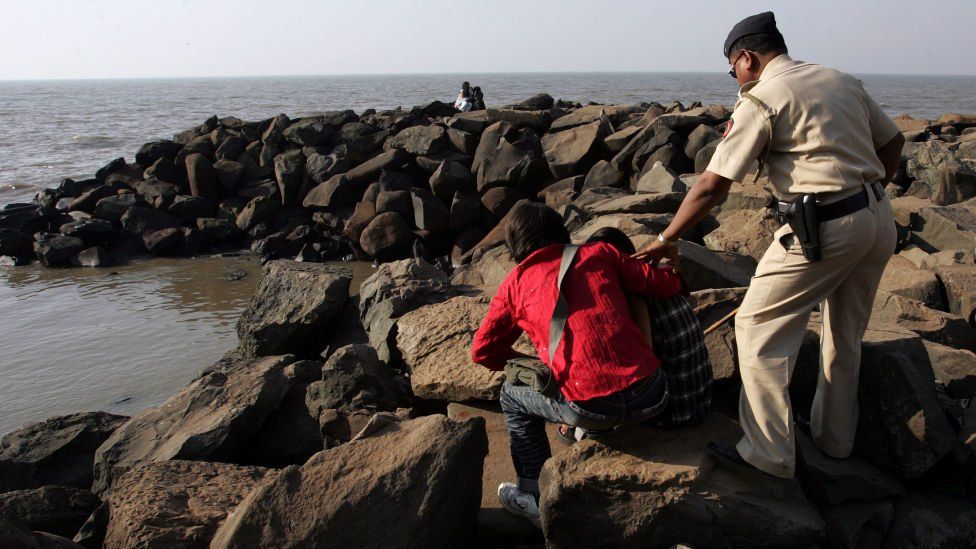 But couples who try to get close in private run into other roadblocks – some hotels in the country even insist on seeing marriage certificates before renting out rooms to couples.
Ironically, same-sex couples often do not face the same problem in renting a hotel room that a heterosexual couple might. Men holding hands or walking with their arms around each other has never raised eyebrows in India the way it does in the West. Indians have been touchy-feely in public, even if they frown on PDA between a man and a woman.
Section 294 of the Indian Penal Code punishes anyone causing annoyance to others in a public place by obscene acts, including obscene songs or ballads.
But the problem lies in the definition of obscenity itself.
The great Urdu writer Saadat Hasan Manto was charged with obscenity six times, both in British and independent India. In 2017, actor Milind Soman was charged under Section 294 after he posted a picture of himself running naked on the beach to mark his 55th birthday.
Earlier this year, the idea of obscenity in India even became the subject of an acclaimed off-Broadway play, Public Obscenities, which explores queer relationships in Kolkata.
The title draws from Section 292 of the Indian Penal Code. Its playwright Shayok Misha Chowdhury said in an interview that he was intrigued by what constitutes obscenity under the law, "what it considered taboo and what is declared erotic" and the "porosity of what is private and what is public".
While celebrity cases grab eyeballs, PDA has always been a battleground for young people trying to assert their freedoms against sections of the population that are opposed to the practice.
Several court judgements have ruled that kissing in public is not an obscene act per se. A lawyer defending a married couple in 2008 said it can only be obscene if it "encourages depravity or annoys the public".
But it's tricky to legally draw that line. As lawyer Saurabh Kirpal observes in the anthology Sex and the Supreme Court: "The law is shaped by society and in turn shapes it… The problem with changing the law is that the law is framed by the very people who represent society."
That leads us right back to the Delhi Metro, where one person's PDA might well be public obscenity for another.
Sandip Roy is a podcaster and author based in Kolkata.
BBC News India is now on YouTube. Click here to subscribe and watch our documentaries, explainers and features.


Read more India stories from the BBC: