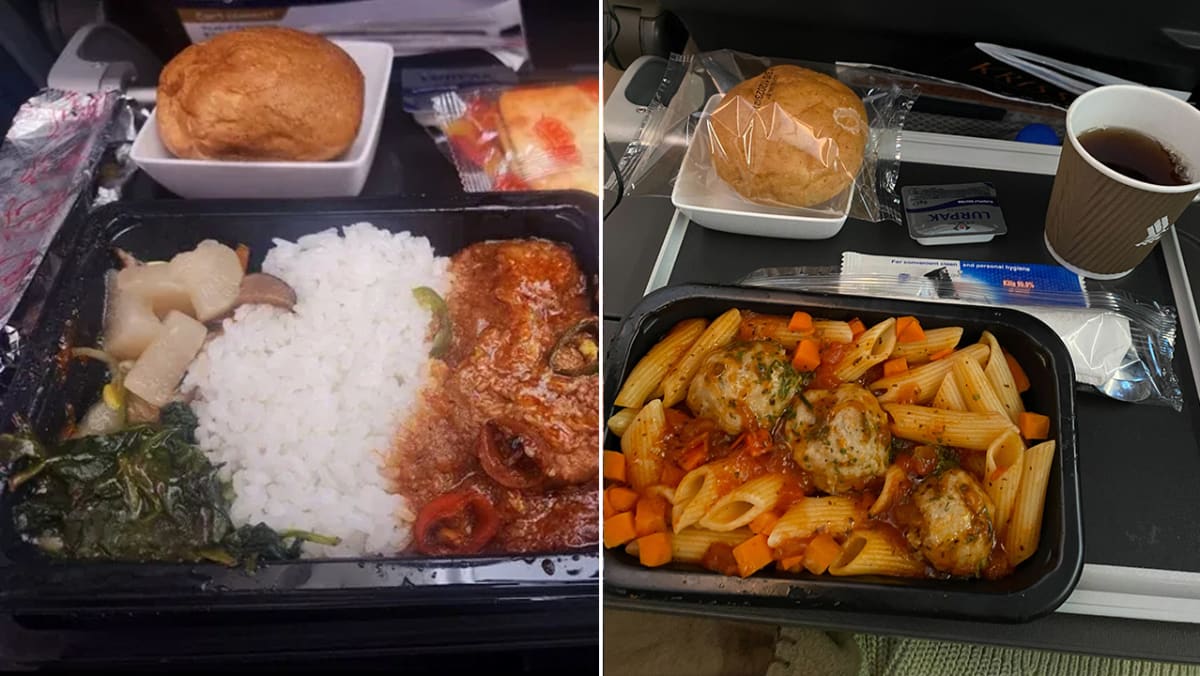 FOOD "SIGNIFICANT EXPENSE" FOR AIRLINES
While complaints about airline food are nothing new, frustrated SIA passengers have become "a lot more vocal", Mr Wong observed.
He cited the removal of several items over time – hot towels, the appetiser and fruits course in an economy class meal, and even paper menus that economy class passengers used to receive – that "chipped away around the edges".
Many criticisms tend to categorise all perceived declining standards as "cost cutting" – but it's not that straightforward.
For instance, he said, the removal of Dom Perignon from SIA flights was labelled as "cost cutting" by netizens. But SIA no longer serves the vintage champagne in its first or Suites classes because Emirates secured an exclusive contract to serve all champagnes under French conglomerate LVMH until at least 2024.
As much as some criticisms are valid, "we need to be very, very clear" that there are "misconceptions going around", he added.
Even as SIA has said they have not been cutting costs for in-flight meals, Mr Wong acknowledged that food expenditure can impact an airline's overall costs. Airlines "operate at such a volume, that even a very small change, like removing one piece of chicken, can have a huge effect", simply due to the number of portions served, he said.
He highlighted the famous story of how American Airlines discovered in the 1980s that removing one olive from every passenger's salad would reduce its costs by US$40,000. It demonstrated the impact of a seemingly insignificant item on a carrier's bottom line.
An aviation expert who spoke to CNA also agreed that food can indeed be a "significant expense" for airlines, "not to mention the crew resources tied up in storing, preparing, serving and clearing meals".
Mr Greg Waldron, Asia managing editor for industry publication FlightGlobal, said cost-savings are why budget carriers only serve food on demand.
"For a big full-service airline, saving just a few cents on every meal can lead to significant savings if spread across millions of passengers over a given time period," he added.
"Alcohol and drinks are another area where airlines can save money. Many carriers, including SIA, no longer have a pre-dinner drinks service in economy class. Emirates has a pre-dinner drink available, but passengers need to go to the galley to collect it. Measures such as this help save costs."
Nonetheless, SIA passengers on medium- and long-haul flights have been served a bigger portion of food since the current disposable plastic casserole dish was introduced in April 2020.
"(It is) larger than the one that we used pre-pandemic. This has allowed us to serve our customers heartier and larger main course portions, up to 30 per cent more by weight. This again is in response to customer feedback requesting larger main course portions," the company said.
Some netizens have also taken a more measured stance against critics.
"The quality is subjective … But if the (sustainable) packaging is more expensive and the company is doing it because of the environment, in the name of sustainability, I would rather go with the new packaging," said one Facebook commenter in response to another's complaint.
Another, replying to CNA's Instagram Story, highlighted the "not bad" mee siam and said "people shouldn't have too high expectations" for economy class.
And for all his criticism, food and travel blogger Mr Foo still believes SIA has "maintained its edge" over the competition – although this, he said, is "an ever decreasing one".