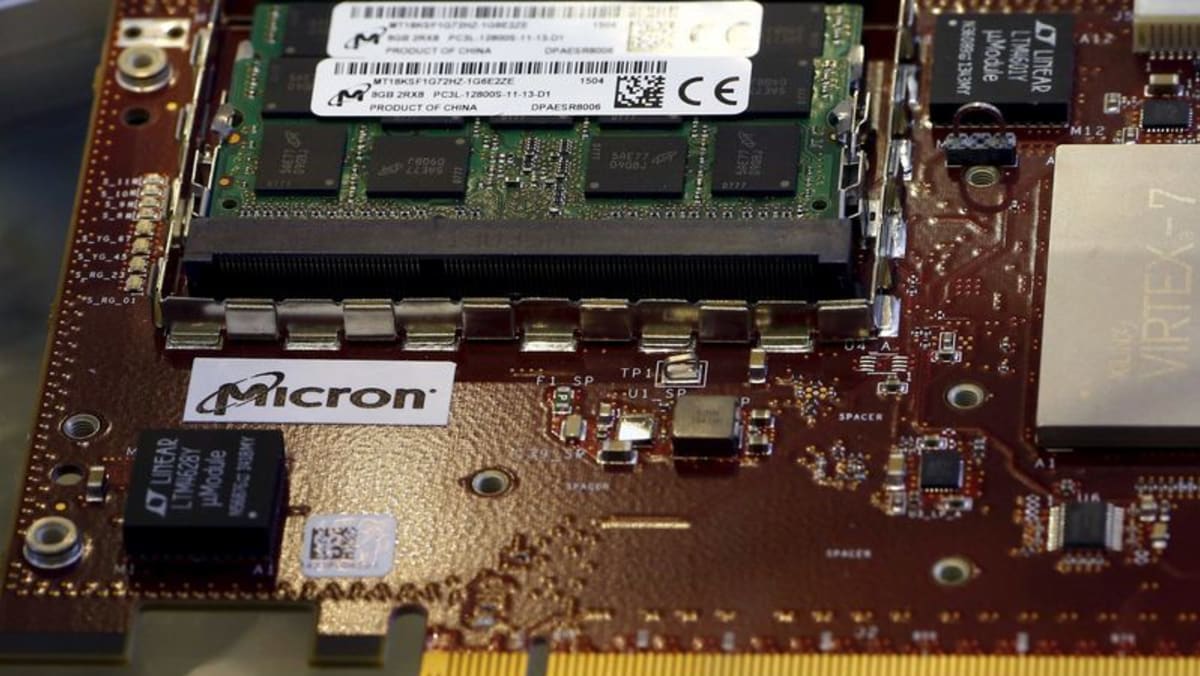 BEIJING: US semiconductor giant Micron has failed a national security review, China's cybersecurity watchdog said on Sunday (May 21), telling operators of "critical information infrastructure" to stop buying its products.
It marked the latest escalation in the bitter chip war between the United States and China, with Washington looking to cut off Beijing's access to cutting-edge semiconductors.
Chinese authorities launched a review in March of products sold in the country by Micron, one of the world's major chip manufacturers.
"The review found that Micron's products have serious network security risks, which pose significant security risks to China's critical information infrastructure supply chain, affecting China's national security," the Cyberspace Administration of China (CAC) said in a statement.
"Operators of critical information infrastructure in China should stop purchasing Micron products."
China's broad definition of critical information infrastructure includes sectors ranging from transport to healthcare.
The CAC neither provided details on what risks it had found nor what Micron products would be affected.
Micron said it had received the CAC's notice of the conclusion of its review of the company's products sold in China.
"We are evaluating the conclusion and assessing our next steps," it added.
When asked if the company will appeal the decision, a spokeswoman for Micron said: "We look forward to continuing to engage in discussions with Chinese authorities."
Micron makes DRAM and NAND flash memory chips and competes with South Korea's Samsung Electronics and SK Hynix as well as Japan's Kioxia, a unit of Toshiba Corp.
IMPACT ON MICRON
About 10 per cent of Micron's US$30.8 billion annual revenue last year came from China, according to company data.
But a large portion of Micron products sold in the country were bought by foreign manufacturers, analysts had said earlier, and it was not clear if the cybersecurity watchdog's decision affects sales to foreign buyers.
Jefferies analysts expected limited impact on Micron as its major customers in China are consumer electronics firms such as smartphone and computer manufacturers, not infrastructure suppliers.
"Since Micron's DRAM and NAND products are much less in servers, we believe most of its revenue in China is not generated from telcos and the government. Therefore, the ultimate impact on Micron will be quite limited," they said in a note.
The timing of the CAC's announcement was important, coming during a summit of the Group of Seven (G7) leaders in Japan, said Christopher Miller, a professor at Tufts University and author of "Chip War: The Fight For The World's Most Critical Technology."
Micron announced last week a plan to invest up to 500 billion yen (US$3.7 billion) in Japan in extreme ultraviolet technology, becoming the first chipmaker to bring the advanced chip manufacturing technology to the country that is now seeking to reinvigorate its chip sector.
US President Joe Biden on Sunday said G7 nations had agreed to "de-risk and diversify our relationship with China". The leaders also agreed to establish an initiative to counter economic "coercion".
"This case could be an early test of the G7's efforts on this front," Miller said.