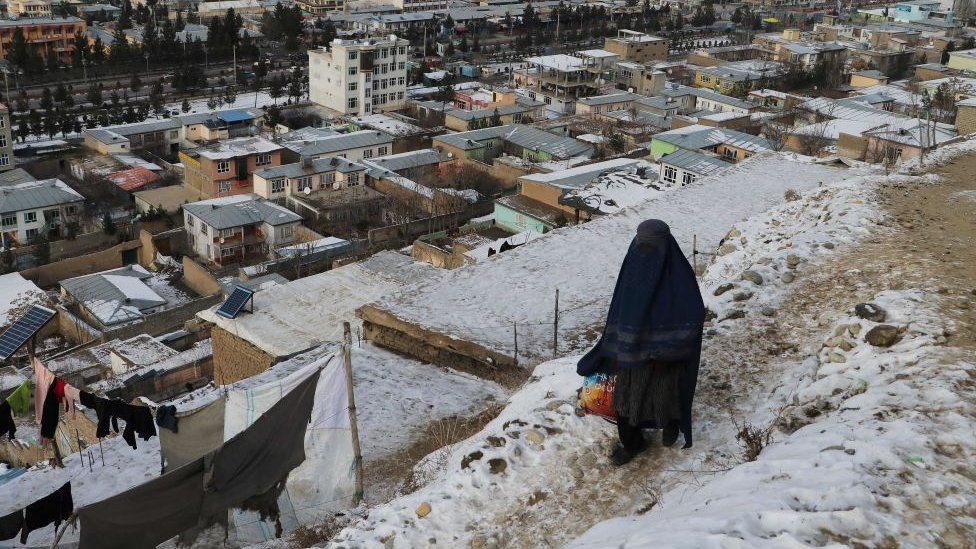 A top UN official believes progress is being made towards reversing bans on women taking part in public life in Afghanistan.
Deputy Secretary-General Amina Mohammed has been in Kabul for a four-day visit to urge the Taliban to reconsider.
Last month, the country's Islamist rulers banned all women from working for non-governmental organisations (NGOs).
The move caused several aid agencies to suspended operations.
Speaking to the BBC at the end of her trip, Ms Mohammed said most senior Taliban officials she met had been ready to engage over the rights of girls and women.
However, she described the talks as tough and cautioned that it would be a very long journey before the leadership took the fundamental steps required for international recognition of their rule.
"I think there are many voices we heard, which are progressive in the way that we would like to go," Ms Mohammed said. "But there are others that really are not."
"I think the pressure we put in the support we give to those that are thinking more progressively is a good thing. So this visit, I think, gives them more voice and pressure to help the argument internally."
Ms Mohammed also criticised the international community, including other Islamic states, for not doing enough to engage on the issue.
Since seizing back control of the country last year, the Taliban has steadily restricted women's rights – despite promising its rule would be softer than the regime seen in the 1990s.
As well as the ban on female university students – now being enforced by armed guards – secondary schools for girls remain closed in most provinces.
Women have also been prevented from entering parks and gyms, among other public places.
It justified the move to ban Afghan women from working for NGOs by claiming female staff had broken dress codes by not wearing hijabs.
Ms Mohammed's comments come as Afghanistan suffers its harshest winter in many years.
The Taliban leadership blames sanctions and the refusal of the international community to recognise their rule for the country's deepening crisis.
Ms Mohammed said her message to Afghanistan's rulers was that they must first demonstrate their commitment to internationally recognised norms and that humanitarian aid cannot be provided if Afghan women are not allowed to help.
"They're discriminating against women there. for want of a better word, they become invisible, they're waiting them out, and that can't happen," she said.
But she said the Taliban's stance was that the UN and aid organisations were "politicising humanitarian aid".
"They believe that… the law applies to anyone anywhere and their sovereign rights should be respected," she said.
The Taliban health ministry has clarified that women can work in the health sector, where female doctors and nurses are essential, but Ms Mohammed said this was not enough.
"There are many other services that we didn't get to do with access to food and other livelihood items that that will allow us to see millions of women and their families survive a harsh winter, be part of growth and prosperity, peace," she said.
This visit by the most senior woman at the UN also sends a message that women can and should play roles at all levels of society.